By

Dan Veaner

News

Print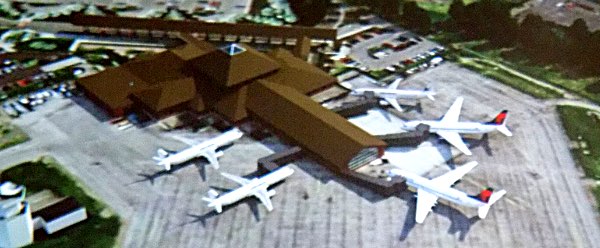 Tompkins County got the news that the Ithaca-Tompkins Regional Airport will become the Ithaca-Tompkins International Airport before the end of next year, when Governor Andrew Cuomo visited the airport May 3rd to announce that New York State would contribute $14.25 million toward the project. The three big pieces were that the terminal would be significantly expanded, that a 5,000 square foot US Customs facility would be added, and a new State DOT facility would be built adjacent to the airport. The Lansing Community Library Program Committee and the Lansing Democrats co-hosted Airport Manager Mike Hall Tuesday, who gave a presentation on what that will look like.
"If you want to understand the new terminal puff out your cheeks and stick out your tongue," Hall quipped. "We're expanding the baggage area significantly. There will be more room (at the check-in counters). When you get back to Security, there are going to be two lines. There will be a priority check line for those people who travel frequently and have been cleared. That will help process people through more quickly. Then there's going to be a departure concourse with six gates. We have six gates right now, but they're ground gates with one jet-bridge. Now we're going to have four jet-bridges and two ground gates. We need the ground gates because there's always the possibility that we'll get small airlines here."
Hall said there will be food vendors on the secure side in the departure concourse, and he large baggage screening machine will be moved 'back stage' to provide more space at the check-in counters.
A major factor in the project is giving up natural gas and powering the airport with solar power. Hall's team has been negotiating with Cayuga Solar (the new solar extension of the Cayuga Power Plant) to provide electricity to power ground source heat pumps, and solar panels will be erected above the parking lots which will have the secondary advantage of keeping a lot of the snow off of parked cars. Hall estimates that at least 80% of gas consumption will be eliminated to be replaced by solar power and heat pumps. That will save $50,000 annually on utility costs, even with a terminal that is 1/3 larger.
"We're going to use this as a demonstration of Sustainable Solar Tompkins transitioning -- how you can transition from fossil fuels to renewable energy. Is it perfect? No it's not, but it's a big step in the right direction. We are also working with NYSEG to put a big battery, the size of a tractor-trailer at the airport. So look for a lot of solar panels. Look for charging stations. Look for electric airplanes."
Electric airplanes are not just a pipe dream. Slovenia-based Pipistrel's
Alpha Electro
all-electric 2-seat trainer has become popular with flight schools overseas. Now that the FAA has granted it airworthiness certification the Alph Electro will be the first electric training plane in the US. Hall says it can fly for three hours and recharge in 30 minutes, which fits a flight instructor's schedule of working with students and paperwork on the ground between training flights.
A customs building will allow for general aviation traffic to come directly to Ithaca from Canada and other countries. Hall said a surprising number of Gulfstreams fly to Ithaca from China. He noted that ten wealthy Chines students can charter a Gulfstream for the same cost as ten first class tickets and fly directly to Ithaca. Right now they have to stop somewhere else to go through Customs, but after construction is completed next year they will be able to come here directly, again, not possible on commercial flights.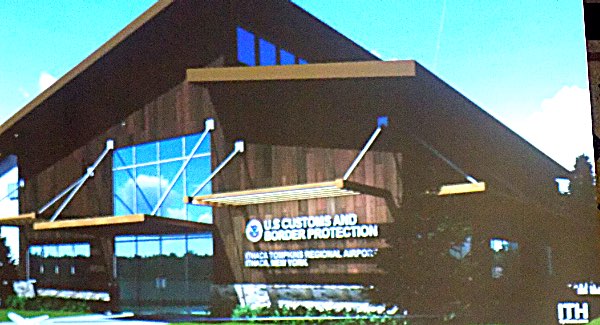 Hall has been talking with Air Canada, and says if they can get service from a pre-cleared international site Ithaca may be able to get service from Toronto and Montreal. The caveat is that you are not permitted to accept a plane of pre-cleared passengers at a US airport unless it has a customs facility. Private pilots would be able to fly their families to Ithaca to spend the day visiting wineries or other local attractions, then fly back, again without having to fly somewhere else U.S. Customs and Border Protection to clear customs. So having a U.S. Customs and Border Protection facility on the grounds will open new opportunity for more air service to Ithaca.
Hall made the points that Tompkins County is economically and culturally the logical choice of a community to host an international gateway to the rest of the world. He said it is the wealthiest upstate county with about 2% annual growth, plus the most internationally diverse county in the state, along with Queens.
"As the airport has grown, so has the global connection of our community," Hall said. "Why do we need an international airport? We're the only strong economy in all of upstate New York. We grow by 2% a year. The surrounding counties shrink by the same amount. 15,000 people drive into our community to work every day. When they go home and spend their wages, that's what sustains their communities. We really are the bright spot in all of upstate New York."

"We have 750 one-stop international connections and three major airlines," he continued. "It's highly unusual for a community this size. They're here because of business. It's not because we fly to Detroit and Philadelphia and Newark. It's because we fly to Beijing, Shanghai, Tokyo, Seoul, Frankfurt, and Paris. From a business point of view, that second leg -- instead of having 50 people and two pilots on a jet going less than an hour -- now you've got 400 people and two pilots on a jet that's going for 12 hours. There are many fewer operation cycles, and a lot more opportunity to make profit. They're here because our business feeds their profit centers, the hubs."
The main features of the rebuild of the 25 year old terminal are to expand the existing terminal by about a third; replace mechanical, HVAC, and electrical systems; enhance security; modernize passenger amenities; build solar-covered parking; and build a federal Customs Inspection station.
The project is estimated to cost $24.7 million. When you subtract the $14.2 million the State is contributing, Hall will have to raise an additional $10.5 million. And fast, because part of the conditions of the state grant is that the project be completed before the end of 2019.
When asked whether he can raise $10.5 million dollars and still meet the aggressive construction schedule, he replied, "I'd better!"
He went on to say, "We've got $2.5 of that in hand. So now it's $8 million. If we had to finance eight we could, but we don't want to. The President put in a billion dollars for airport infrastructure. We'd like $5 million of that. There is also an opportunity with NYSEG to get some money for using heat pumps. We're trying to get that number down to zero."
Hall said there will be other changes, including changes to the routes to and from Ithaca. He reported Delta goes to the Detroit hub where on-time completion is in the 80%s. American Airlines goes to Philadelphia, with has a completion percentage in the 70%s. United flies to Newark, which has a completion percentile in the 60%s. Hall said that the 60%s and 70%s is not acceptable when you are trying to build a global community, so he has successfully lobbied United to fly to Dulles Airport near Washington, DC, starting with service twice a day, then raising it to four times per day if the market supports it. He said that will bring United above 80%, which will be a big advantage for Tompkins County. Meanwhile he is also lobbying tor direct flights to Chicago and Charlotte. But that means that Ithaca will no longer have direct service to New York City.
"We are a New York City-centric community," he said. "People are justifiably upset that we can't fly to New York any more, even though you can get on the Cornell bus and get there just as fast by the time you would have gone through security and do everything else. We are talking with United, and there is some interest in running a secure bus (where passengers go through security as they would before boarding a plane, and are delivered directly to a terminal in New York so they don't have to pass through security there). Going through security here is much faster than at larger airports, so it could be a time saver and much more convenient for Ithaca passengers."
The airport expansion will literally transform the regional airport to an international one. There is plenty of room for future expansion as the Tompkins market expands. Hall said there is space at one end of the terminal for a second departure concourse if it is needed in the future. The air traffic control tower would be moved to the north side of the runway to make room for a second concourse. The existing 6,997 foot long runway is long enough to land a 757, which is larger than the planes using the airport today.
"They're pretty big airplanes," Hall said. "Bigger than our market will support for a long, long time to come."
Hall is a native of Tompkins County. He grew up on a local farm, then graduated from Cornell University before joining the Air Force, where he served for around 30 years, retiring at the rank of Major General. He served as a Commissioner of the New York State Division of Military and Naval Affairs. He then founded PFC Consulting, a leadership development consulting firm, and became Airport Manager in 2014.
v14i23