Village of Lansing Trustees considered a potential project Monday that would bring additional affordable housing to the Village and the County.  The Lansing Reserve project is proposed for a 23 acre lot near Warren Road, between Dart and Northwoods Drives.  It will consist of 65 town home units, each with an attached one car garage.  Better Housing of Tompkins County will be the majority owner and manager of the project.
"The housing needs assessment that was put together by Tompkins County in 2006 pointed to the fact that there are a lot of people in service industry jobs or who are working at Cornell that have to commute (from other counties)," said Better Housing of Tompkins County Executive Director John Spence.  "This kind of facility, I think, particularly with its proximity to Cornell, will be of benefit to those folks who will start to feel the pinch of a four dollar gallon of gas.  I think the need is there in the community."
Better Housing is partnering with the NRP Group, which will finance and facilitate the project by lining up limited partners and obtaining tax credits that bring the cost down to where it is affordable to build affordable housing.  NRP Group's Vice President of Development Chris Dirr says the project is unique because it is targeted at people of mixed incomes, from 90% of median income down to 30%.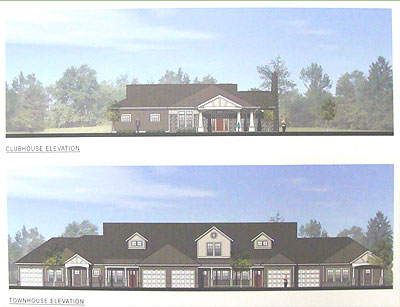 "It covers a wide spectrum, but it enables the full continuum of people who have historically lived in the community to be able to stay in the community, or those people that haven't," he says.  "It is for attracting nurses, or attracting teachers.  The challenge in high growth areas is that they can't find an affordable place to live.  This addresses that."
Lansing Reserve will consist of 65 town home apartments and a club house for common use.  The apartments range from one to four bedroom town homes, distributed among 13 individual buildings.  Some of the units will be handicapped accessible, including some single-storey units on the ends of the buildings.  Less than half the 23 acre site will be used for the development, leaving the rest as natural areas including a stream and existing vegetation.  Dirr says a feature that distinguishes the units is that each has an attached one car garage, a feature that he said might attract longer term residents.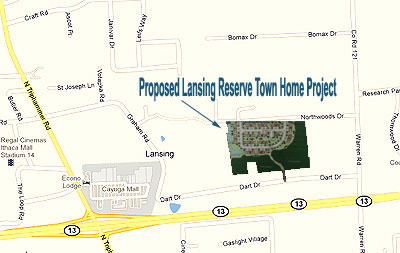 Spence adds that affordable apartments can be a stepping stone for people who are saving to buy their own home in the county, as well as for transient residents such as visiting professors. 
Better Housing already manages about 121 affordable apartments around Tompkins County, including Newfield Garden Appartments, Fountain Manor in Slaterville Springs, and the 60 unit Juniper Manor in Trumansburg.  Lansing Reserve will be the organization's largest complex.  Spence notes that Better Housing brings a historical local presence as well as experience in managing apartments, and confidence that a local owner is managing the project for the long haul.
Dirr says that makes Better Housing a perfect partner in the project.  NRP has developed more than 12,000 units in over a dozen states across the country, working on about 15 projects per year.  Because of its ongoing activity and national presence it can attract the right investors and specializes in obtaining tax credits to help finance the projects, something Spence says Better Housing could not do on its own.  Dirr says his company was looking for a high quality local partner here, because local demographics show a need for projects of this kind.
"Across upstate New York there are really only two counties that are experiencing positive population growth, Tompkins County and Saratoga County," Dirr says.  "Both of those have fine academic institutions, and that is driving a lot of growth.  The downside to that is that it constrains availability of affordable housing.  So we're looking to do a project in Tompkins County, and another project in Saratoga County, where we're partnering with a local partner doing much the same thing."
Village Mayor Donald Hartill said that Village officials have considered either a cluster development or a Planned Development Area (PDA) approach.  He said he thinks the PDA approach would best serve the project and the Village because it involves both the Planning Board and the Board of Trustees at multiple checkpoints as the planning process progresses, insuring that Village goals and standards are woven into the project as it progresses toward the construction phase.
Dirr says that NRP would like to begin construction this summer.  If that timetable is met, the first units would be rented the next Spring, roughly six to seven months after construction begins.  Construction would continue on the remaining units, which would be rented as they are completed.
----
v7i6