By

Dan Veaner

News

Print


Fire Commissioners rejected all bids on a half million dollar pumper/tanker fire truck when a sales representative from Gorman Emergency Vehicles complained that a competing bid by Pierce Manufacturing did not comply with Lansing Fire District rules because it had been handed in 17 minutes after the 5pm deadline. Sales Representative Eric Saulsbury said that the bid from his company was legally accepted two minutes before the deadline. Saulsbury also accused the district of slanting the bid specifications which are laid out in a document of more than 100 pages, toward fire trucks that Piece manufactures. he speculated that was the reason only two bids were submitted.
"The specification is clearly tailored to Pierce Manufacturing fire apparatus that you currently have in service," he said. "We see a specification that specifically calls on a Detroit diesel engine available to only one manufacturer in the United States. Suspensions, command zone electrical systems... all those things are truly against New York State bidding laws."
But a Pierce manufacturing representative said the specifications were legal because they clearly stated that equivalents to specific brands of equipment are acceptable. Commissioners said they would put the truck out to bid again.
Lansing Fire Chief Scott Purcell reported that eight firefighters manned Central Station to insure faster response during Hurricane Sandy. He said there were no calls during that time.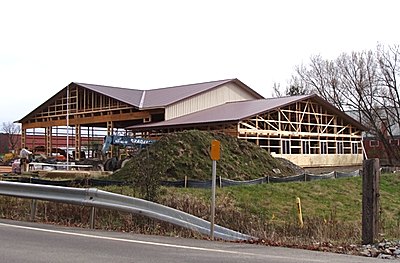 A new fire station on Oakcrest Road is framed and ready to be enclosed before the end of this year
Fire Commissioner Alvin Parker reported on progress on a new fire station in the Village of Lansing Tuesday. The $750,000, 63,000 square foot building is expected to be enclosed before the end of the year. The new station will include four equipment bays to house a ladder truck, a fire engine and a duty-chief EMS vehicle, with the fourth bay available for future expansion. The station will also have five bunk rooms.
The Village of Lansing accounts for more than 50% of emergency calls to the Lansing Volunteer Fire Department. The new station replaces a smaller 1972 building that was too small for modern fire equipment and had deteriorated to the point where it might have been condemned.
Parker said the framing is complete, including roof trusses and a steel roof. Trench drains in the equipment bays and under-floor plumbing have been installed and inspected.
v8i43