By

Dan Veaner

Sports

Print

Saturday marked the 12th annual Lansing High School Athletic Hall Of Fame induction. Fans filled the stands to honor inductees from the 'Class of 2009' including Laura Herrick ('94), Dale "Nick" Nichols ('59), Eric Tee ('98), and the 1989 Lansing baseball team. The awards were announced by Hall Of Famer Geoff Wright, and handed out by Hall Of Fame Committee Chairman Marty Christopher.
The Hall Of Fame was established in 1989 to honor the achievements of Lansing athletes. The induction ceremony is traditionally sandwiched between Lansing Bobcats varsity and junior varsity basketball games in January of each year. Nominees must have excelled in sports while at Lansing. Former athletes and teams must have graduated a minimum of ten years before they may be nominated. Coaches and administrators must have left the district at least two years prior to being nominated.








Marcia Herrick accepts a plaque for daughter Laura from Marty Christopher (upper left). Dale Nichols (upper right). Marsha Tee accepts for her son, Eric Tee (lower left). The 1989 Baseball Team stands to be recognized.

The Hall Of Fame is an actual hallway between the high school gymnasium and the weight room. The wall is lined with plaques that show pictures of the players and a short description of their achievements when they played for Lansing. Currently more than 30 individual players are represented there. In 2005 the committee began honoring teams as well as individuals, and to date seven teams have been honored, making a total of 60 athletes. Two plaques are made for each inductee. One goes to the honoree, and the other is placed in the Hall Of Fame. The Lansing Athletic Booster Club funds the plaques.
Nominees arrived for an informal reception in the High School cafeteria during the Junior Varsity game in which the Ladycats trounced Dryden 48-14. After the game the junior varsity and varsity players lined the gymnasium walls as the ceremony began.
Former inductees are honored before new athletes are inducted
Two inductees were not able to come. Herrick lives in Denver, Co. where she is the office manager for Pinnacle Architectural Lighting. Her award was accepted by her mother Marcia Herrick. Tee is a marine who has been deployed to Iraq and Afghanistan as an infantry and sniper platoon commander. He then spent three years in Quantico, VA in charge of the sniper school, and is currently a company commander stationed in Okanawa, Japan, and expects to be deployed to the Middle East. His mother, Nancy Tee, accepted his award. Nichols is retired from the Reliance Insurance Company and works as a consultant to Short Line Railroad. He came up from Melbourne, PA, where he lives. He, along with many of the baseball team members were on hand for the festivities.
Wright has an uncanny ability to bring past glories to life. This was especially true as he recounted the 1989 baseball season, in which Lansing only lost to Ardsley in the state semi-finals after a perfect season in which they won 24 consecutive games. Wright took the audience through the season, building excitement as they earned their spot in the state championship. You almost felt as though you had traveled back in time to see the team play for yourself. Eight of the players were reunited with their coach Ed Redmond and assistant coach Stuart Dean at the ceremony.
After the ceremony the Varsity Ladycats defeated Dryden 57-21. Nominations are accepted year 'round by the Hall Of Fame Committee. The Hall Of Fame maintains a
Web site
where they post informaton about the facility, nominations, and past inductees.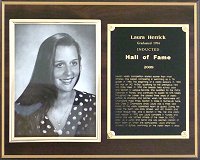 Laura earned 13 Varsity Letters during her high school career. Six (6) in swimming, three (3) in basketball, three (3) in softball and one (1) in track & field.

In the winter, Herrick spent her time on the hardwood, playing for Coach Stuart Dean. A three year starter, she helped the LadyCats to a 20-2 record as a sophomore, capturing a Division title as well as the Over-all IAC Championship. She was the second leading rebounder on the team, averaging 6.8 rebounds per game. Lansing was ranked as high as #6 in NYS her sophomore year. Her three year varsity record was 48-17.

She was second on the team in scoring as a junior and the team's leading scorer as a senior, averaging over 12 points per game.

Coach Dean called Laura the 'best defensive player on the team'. Dean said, "She had that rare mix of agility, physical size, and outstanding athletic ability. Laura always guarded the other team's best offensive player and she often held that player to single digit scoring."

Herrick captained the Lady Cats as a senior and was a two-time IAC First Team All-League selection.

In the spring of her freshman year, Laura played varsity softball. She helped the team to a 12-2 IAC record and a 16-7 overall record, while winning a Divisional title. Herrick led the team in hitting at a .416 clip. As a sophomore, she decided to run track and competed in the hurdles and threw the discus. She was named Track and Field's Most Improved Athlete that spring.

She returned to softball as a junior. The team was undefeated in the IAC, 14-0 and 21-1 overall. The LadyCats won the Section IV Class D Championship game against Harpursville, 1-0. That year she led the team in runs scored with 37 and with 26 stolen bases.

Her senior season, the Lady Cats had an 11-3 IAC record, while winning the Division and a 15-6 overall record. Lansing returned to the Section IV Championship game, but lost to TAE 9-8. Herrick led the team in doubles (6) homeruns (5) and RBI's with 33. She finished with a career batting average of .399. Herrick was also a pitcher for the Lady Cats, compiling a career record of 17-6, with 2 shutouts and 105 strikeouts.

Head Softball Coach Cathy Haight said, "I really enjoyed coaching Laura. She was such a good athlete and hard worker and she never took herself too seriously. She could really keep the team loose."

Herrick truly made her mark in Lansing Sports history, in the swimming pool. She began swimming on the Varsity Girls team while in 7th grade. During her six year swim career, she set: 34 pool records; 19 School records; 18 League records; 6 IAC Championship Meet records; 9 Class "C" Section IV records; 3 Section IV records; 3 New York State Qualifying Meet records; for a grand total of 94 swimming records. Beginning in the 8th grade, she started a streak of swimming in 5 consecutive NY State Championship meets. In 1990 she finished 3rd in the state in the 200 yard Medley Relay. In 1991, she was 4th in the 200 yard Medley Relay and 2nd in the 200 yard Free Relay. The Team's relay time qualified them as high school All-Americans.

Over the next three seasons, she had numerous top 10 finishes at the NY State Championship meet. A high point of her career occurred in her junior season, when she qualified for the NY State Championship meet in four separate events…the 100 Butterfly, 50 Free, 200 Free Relay and the 400 Free Relay. The team's six year dual meet record was an amazing 67-3. She helped lead the LadyCat swimmers to 6 IAC titles and 6 Section IV titles. From 1991 to 1994, Lansing won 4 consecutive NYS titles in Class C-D competition. Herrick was a 6 time IAC All-Star and was a three time qualifier on the NYS All-Academic Team. 15 years after her graduation, her relay team still holds 3 Lansing records - the 200 Medley Relay, 200 Free Relay and the 400 Free Relay, and Laura still appears in the career top ten best times in 11 different events.

She was named the school's Outstanding Female Athlete in 1994.

Following her graduation, she attended Division I University of Buffalo, where she swam for four years.

Laura lives in Denver, Colorado, where she is the office manager for Pinnacle Architectural Lighting.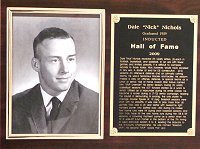 Dale 'Nick' Nichols received (9) varsity letters, (3) each in football, basketball, and baseball. In an era with fewer games and limited playoffs, it is difficult to compare records to those today. Nick however, would have excelled in any era. A starter at end for (3) consecutive (6-0) seasons on offense & defense and on primarily rushing teams, he was a tenacious blocker and tackler. He seldom missed a play on offense, defense, or special teams as a junior or senior. Hall of Fame Coach Stan Sobus named him "MVP Lineman" his senior season. During (3) varsity basketball seasons the 6' 2" forward started as a junior & senior.

Utilized as a rebounder during his entire career, he became a scorer during a (7-12) senior campaign, leading the squad in rebounding & scoring, the only starter to average double figures at 12 ppg. Baseball seasons were short with no playoffs. It was rare to play more than (8) games. Nick was a (3) year starter with awesome right handed power who batted over .300 during his career.

Few home runs were hit during short baseball seasons and Nick may have hit the only home runs during the '58 & '59 seasons. A crowning moment came as a senior when he hit a walk-off 2-run homer in the bottom of the 7th inning to beat arch-rival Groton 3 to 2, leading the Bobcats to the Tri-County Championship. He was named "Baseball MVP", his second "MVP" award that year.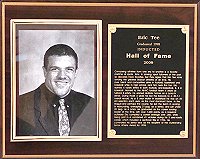 Tee was an 11 time letter winner for the Bobcats, earning 4 in football, 4 in basketball and 3 in baseball.

In football, Eric was a 4-time Division All-Star, selected at cornerback as a freshman, wide receiver as a sophomore and a running back his last two seasons, he helped lead Lansing to a 4 year record of 30-6-1. His career numbers are extremely impressive. 276 carries for 1904 yards, an average of 6.9 yards per carry. Eric had 41 receptions for 698 yards, averaging over 17 yards per catch, and 34 career touchdowns.

On the defensive side of the ball, he had 84 solo tackles and 164 assisted tackles. His 14 career interceptions, is a Lansing record. As a senior captain, Eric was the Southern Tier's second leading points' scorer with 18 touchdowns and a two-point conversion for 110 points. Head Football Coach Ed Redmond said, "Eric was a difference maker on the football field. The opposing coach always knew when Eric was on the field." Coach Redmond told a story, that when they were playing TAE, the teams were tied, 14-14 at halftime. Ed was disappointed with the way the Bobcats were playing and he really chewed them out at halftime. He made eye contact with Eric and knew right then, that Tee wanted the ball. Eric scored 5 touchdowns in the second half, on a 63 yard pass play, runs of 3, 15 and 42 yards and a 96 yard kickoff return. Lansing won 39-14.

Coach Redmond said, "Tee was one of the best I coached at Lansing." Tee was a Two-Time Section IV All-Star, and was a Two-Time All-State selection in football….as a wide receiver in 11th grade and at safety as a senior. Tee helped Lansing reach 3 Section IV titles games, twice losing to Deposit in the Class D finals, and once losing to Walton in the Class C Title game.

Tee was just as dominant on the basketball floor. His freshman year, Tee helped the Bobcats to a Division title. As a junior, Tee led the IAC Northeast Boys in scoring averaging over 20 points per game. He lit up Union Springs for 25 points and later in the season scored 32 against Southern Cayuga. He was named the Ithaca Journal's Player of the week and Wegmans Player of the Month. As a senior captain, Tee helped lead the Bobcats to a Division title, by defeating Marathon 52-51 in a division tie-breaker game. The following week, the Bobcats won the IAC title, defeating Class D State Semi-Finalist Candor 66-64. As a senior, he was honored by the IAC, when he was named the League's MVP. Eric was selected All-State as a center.
Tee finished his career as Lansing's All-Time leading scorer with 1,239 career points. The Bobcats team finished the season as an Honorable Mention in the final NYS rankings.

Eric spent the spring season, patrolling centerfield for the Bobcats. He helped Lansing to three consecutive Division titles, 3 IAC Titles and 1 Section IV championship in 1996. Tee collected 58 base hits, while compiling a career batting average of .312. Eric was a base stealing threat any time he was on base. He stole 53 bases in 56 attempts, and his 24 steals as a junior, remains a single season Lansing record.

Tee was named Lansing's Male Outstanding Senior Athlete in 1998.

Following his graduation, he attended Colgate University on a football scholarship. He lettered four years for the Red Raiders as an outside linebacker and defensive end. Two of his Colgate teams played post season NCAA Playoff Games. As a senior, Eric was awarded the Hal Lahar Defensive MVP Award, given by the Colgate Football Staff. Following his graduation from Colgate, he entered the United States Marines where he became an officer.

He spent two years at Camp Lejeune, NC, where he deployed to Iraq and Afghanistan as an infantry and sniper platoon commander respectively.
He returned home, where he spent three years at Quantico, VA, in charge of the Sniper School. He is currently stationed in Okinawa, Japan, where he is a Company Commander. He expects to be deployed again, back to the Middle East. Eric was unable to attend this evening, as he is protecting our country in Korea, as we speak. Eric is married to Cerissa and they have two children Tristan and Temple. Eric's mother Nancy Tee, accepted his Hall of Fame plaque for him.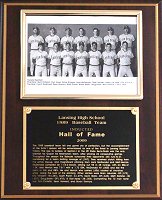 The 1989 baseball team fell one game shy of perfection, but the accomplishment of the 24 & 1 season will be remembered as one of the finest in Lansing Baseball history. The loss to Ardsley of Section I in the NY State Semi-Finals was the only blemish for Coach Ed Redmond's team, after winning 24 consecutive games. Throughout the season the Bobcats outscored their opponents 345 runs to 67, combining for a team batting average of (.397).

They received clutch hitting from the entire line-up, and magnificent pitching from Jack McDonald and Matt Herrick. McDonald compiled an 11 & 0 record, striking out 98 in 68 innings, with an ERA of 1.34, and Herrick was 7 & 1 with a 1.72 ERA. McDonald hit (.500) and led the team in hits and RBI's. He and Herrick, who batted (.506), rotated at shortstop while doing the bulk of the pitching. Other starters were Brian LaLonde-OF (.372), Eric Vincent-1B (.351), Scott Pronti-C (.379), Kevin Biata-OF (.345), Matt Hollister-3B (.507), Doug Boles-OF (.410), & Dan Apap-2B (.305). Completing the 12 man roster was Tom Civiletto, Sean Howard, and Bryan Klempa.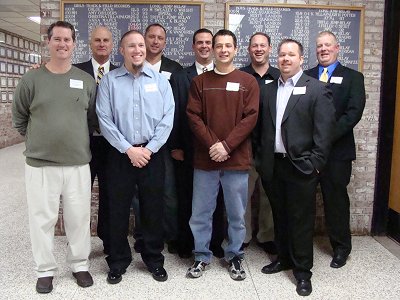 (Left to right) Jack McDonald, Coach Ed Redmond, Dan Apap, Eric Vincent, Scott Pronti, Tom Civiletto, Kevin Biata, Matt Hollister, Doug Boles.
Not in attendance: Bryan Klempa, Brian LaLonde, Matt Herrick & Sean Howard
----
v6i3