By

Steve Lehr

Sports

Print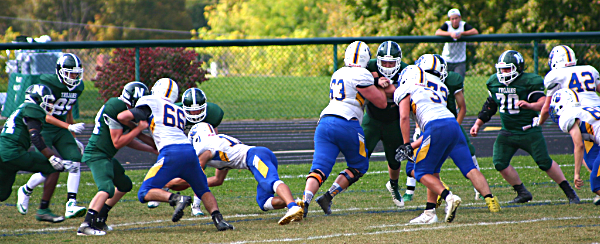 The Lansing Bobcat varsity football team kicked off two weeks after much of the area football programs had already begun. Not sure why Cornell football starts their season far in September but for the Bobcats its due in large part to the limited available competition in these early stages of state wide 8-man football leagues. Cross sectional scheduling is not uncommon.
Game 1
at Elmira Heights on 9/21 resulted in a 47-6 victory over the Spartans. Several scorers were led by quarterback Ben Vincent. Jake Brotherton scored on a defensive fumble recovery and first year kicker Tristan Lyndaker contributed to the point total. This was a positive start for returning coach Brett Hotchkiss and assistants Matt Hartz and Mark Brotherton. Newcomers to the Lansing coaching sideline are Lansing alums Owen Davis, Brandon Davis and Hank Neubert.
Week 2
was a trip to take on the Trojans at Newfield. The battle of the offenses was projected for this early season contest. With near perfect weather conditions the Bobcats junior quarterback Ben Vincent hooked up early with sophomore receiver Carson Crandall for a 26 yard touchdown pass on the first drive of the game. The second drive saw Vincent run 23 yards for another score. The tone was set for offense. Newfield's Jacob Humble was mixing the run and pass at his QB position and after one quarter Lansing held the advantage 14-8.
Lansing continued the scoring trend and tallied a 43-14 lead after three quarters. Filling in for starting Bobcat tailback Jacob Babcock, Eric Kahn had 75 yards rushing. Vincent led all rushers with 207 yards. Most of those coming on a second quarter 75 yard scamper on a 3rd and 20 situation. Newfield immediately responded within one minute of playing time to cut their deficit to 22-14 but could get no closer. Vincent was 4 x 7 passing for 80 yards and 2 TD and 1 interception for Lansing. Defensively Gabe Santiago recovered a fumble. Thor Wierson, Brendon Mogyorosi and Brad Lehr had tackle for losses.
Game 3
on 10/4 was Homecoming week which brought in the first Friday night lights on a clear 45 degree evening. New York Mills made the nearly two hour ride from the Utica area. The stands at Sobus Field were packed and the student section was electric. Cheerleaders provided steady acrobatics and crowd engagement for the entire contest. QB Ben Vincent started the scoring on two early TD runs. Senior wideout Jake Brotherton was on the receiving end of two Vincent passes for touchdowns. Sophomore Carson Crandall saw second half action at quarterback. Senior linebacker Brad Lehr cut in front of a pass to the flat and raced 89 yards for a touchdown in the third quarter. Linebacker Brotherton intercepted another NYMills pass on the next possession. Devante Magee and Eric Kahn contributed to the Lansing rushing attack. Brendan Mogyorosi was a defensive force on the line including a tackle for loss. The Cats built up a 33-6 halftime lead en route to a 47-18 victory over the Marauders.
Elmira Notre Dame comes to town Friday 10/11 for the 7 pm game. Both teams are 3-0 and have similar scores to compare. The Section IV 8-man league Division 7 overall standings shape out as follows: Lansing and END lead at 3-0; Newfield and Unadilla Valley at 2-1; Elmira Heights and Trumansburg 1-2; Oxford 0-3.
v15i38