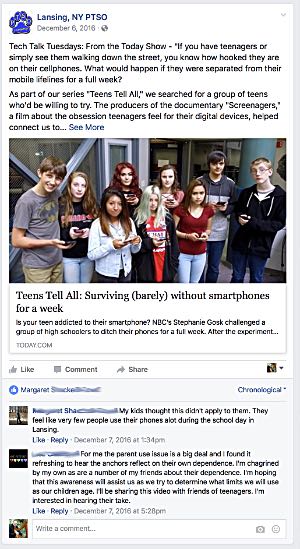 Digital interactions have become an important part of life, especially for young people who are growing up in the digital age. But how is their average 6.5 non-homework of daily screen hours affecting their concentration, development and off-line relationships? The Lansing PTSO (Parent Teacher Student organization) sponsored two showings of the film 'Screenagers' by physician Delaney Ruston to kick off an ongoing discussion about the impact of cell phones and other digital devices and activities to engage parents, community members, and students from 4th grade to high school seniors.
"This is the largest parenting issue of our time, and we're all trying to figure it out together." PTSO President Kristen Hopkins said at Monday's Board Of Education meeting. "What better way to do that than to have a conversation about it? One of the ideas that came out of the documentary was a 'Tech Talk Tuesday'. That resonated with the Wednesday night audience that I was a part of. We started that in November and it's been going strong every Tuesday, including during the break, for the last six or seven weeks."
The idea came from the movie, and, indeed,
the Screenagers Web site
has its own Tech Talk Tuesday, a blog with posts on various topics that cover ideas like when it is appropriate for a child to get his or her first cell phone, how data is inconclusive on how much screen time actually decreases communication skills in real life, and how a parent's comfort level talking to their kids may be the culprit, or how kids deal with rules about using digital devices at home.