On Saturday 28th September Lansing Pack 48 Cub Scouts met in Myer's Park for their opening pack meeting of the school year.  The highlight of the meeting was a visit from I'olani, a four-year old red-tailed hawk, with her keeper Peter Harrity of Lime Hollow Nature Center in Cortland.  Twenty-four Cub Scouts (boys ranging from 1st to 5th grade) plus their leaders, siblings and parents enjoyed a fascinating presentation on a most beautiful fall day.
The Cubs learned about I'olani's history, her living conditions, her diet and how she hunts during the winter months with Harrity.  The boys were able to watch her eat a meal, two white mice that she devoured hungrily.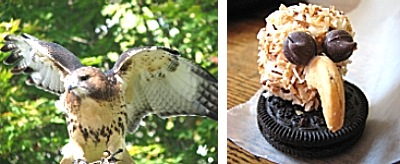 Harrity also brought along the transmitter that he attaches to I'olani when they hunt, just in case she flies too far.  Two Cub Scouts, Lucas and Devin, volunteered to be a 'lost hawk' and went off to find a hiding place.  Meanwhile, the remaining Cubs counted slowly to 100.  The boys took turns using the receiver and deciding which direction the transmitter signal was coming from.  Fifty steps and the next Cub had a turn.  Fortunately, the transmitter worked well and the boys were re-united with the rest of the Pack.
Everyone attending was able to share in the 'red-tailed hawk snack' made from cookies, marshmallows and coconut.   Harrity stayed to answer numerous questions from boys and parents about I'olani, hawks, hunting, looking after birds and the regulations and skills involved in falconry.
v9i37