If you have been to Salt Point recently you have seen ongoing improvements that are turning the property into a family-friendly nature park.  Just this week donated picnic tables were installed near the lake, and wooden benches are planned.  Starting this year development of the park is being  funded by donations and grants, administered by the Friends of Salt Point (FOSP), a volunteer committee that is planning and executing improvements.  In tandem with developments on the point itself, FOSP launched
a Web site
in May to help vacationers and local residents plan visits.
"We want to give people a context for their visit so they understand the history, they understand what they're seeing, the extensive nature they are going to experience there," says webmaster Robert Rieger.  "The site is divided into introducing the location, helping people plan their visit, giving them some historical context, introducing them to the plants and animals, and updating them on new activities that are happening on the point."
The Town of Lansing manages Salt Point on a long term lease with the New York State Department of Environmental Conservation (DEC).  The intention was to provide a counterpoint to the activity-based Myers Park with its beach, marina and boat launch, camping area, playgrounds, pavilions and band stand.  Both parks jut into Cayuga Lake, and are separated by Salmon Creek.  The 34 acre Salt point would be a quiet place to enjoy nature while fulfilling the contract with the state that allows hunting and fishing, non-motorized boating, appreciation of nature and other like events.
"Up until last year a lot of people hadn't heard of Salt Point," says Candace Cornell.  "Then they started coming because the osprey were a reason to go there.  We also have foxes and the most beautiful scenery.  You can see 240 species of birds from the point and there's great fishing.  There are lots of reasons to go.  There used to be an image of the point as 'UC Point' and it was not a pleasant place to take your family.  Now it's more family oriented."
The Web site is meant to be informational, but also to help attract vacationers and day-trippers who like bird watching, hiking, or just want a quiet place to walk their dogs.
"The tourism piece is big," says Katrina Binkewicz, one of the core FOSP group.  "We're sharing something special that we have with other people and having them value the community and bring some money into the community.  Equally important is there are so many people in Lansing who don't know about it either.  Families and kids.  A link with the schools could be strong with their science programs.  To have everybody treat it like the jewel it is."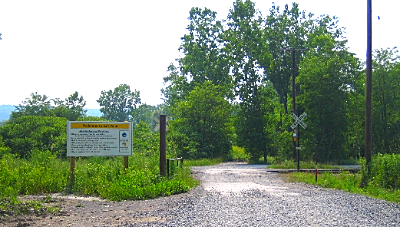 The site is part of the Lansing Parks and Recreation Department site, but it can be accessed directly by going to
SaltPointLansing.org
.  There you find information past and present, with pictures and information about the International Salt Company and the community of Syrian workers who lived there, as well as current features and activities, and a lot of information about the osprey family that moved into a new nesting platform last summer and returned this season.  A comprehensive list of plant life on the point is posted, along with lists of animals and birds you can expect to see.
"One of the main purposes of the Web site is for it to be a tool for people to use to help enjoy going to Salt Point," Cornell says.  "It's a way of informing the region, not just the community, about Salt Point and why they should go there.  And we offer a tool for them to help enjoy it.  For some people that's the history - they want to imagine what it was like in the past when it was Libertyville, and they want to imagine the salt works, and look at the ground for artifacts.  For some people they want to look at the native plants.  There's something there for everybody."
Cornell spent every day last summer watching the osprey last year, taking notes on their behavior with the idea of writing a book.  Instead she is incorporating her observations into a blog on the Salt Point site.  She has about 300 pages of a first draft to pull from.  She is also writing about other species of birds, and hoping to establish two photo galleries, adding an interactive element to the site.  One will be for photos that visitors take of what they see at Salt Point and the other for pictures of families visiting there.
"It will be a community photo gallery," she says.  "We're already using quite a few photos that people have sent us.  We've been soliciting them and several people have been sending us photos and videos.  And we hope to have paintings and poetry.  We'll be offering projects for kids on the Osprey page."
Rieger says the Web site is a great tool for planning a visit, and notes that the site offers something for just about everyone, from nature buffs to history buffs to families who just want a unique place to picnic.
"We want to continue expanding the content, document all the efforts that are going on there and make it more inviting to a broader range fo the population both within the town and the county and beyond," he says.  "It's amazing how much Salt Point reflects a lot of the history of Lansing.  We're trying to capture that.  We have plans to expand that section of the site.  It's really interesting to see the development of it over time."
Binkewicz stresses that tax money is no longer being spent to improve Salt Point.  Instead donations of plants, bird houses, benches, and, of course, cash are being solicited on the Web site.  FOSP is also pursuing grants for some projects, including a possible handicap accessible fishing dock.  The four picnic tables were donated, two of them by the Lansing Lion's Club.
"Donations and grant money will fund all projects there going forward," she says.
She also stresses that FOSP wants to boost tourism by offering a diverse, unique place to visit as tourists visit the area, perhaps wanting a break from the Finger Lakes wine and beer trails.
"It supports the Town's goals for strengthening the economic base and tax base for the Town and townspeople," she says.  "If we bring people up here to view the natural landscape they will shop in the stores in South Lansing.  The people who come to the Bed & Breakfasts and the hotel -- it makes them want to come back that much more to see things every year."
"We're making it a rich part of Parks and Rec," Binkewicz adds.  "People are seeing that it's beautiful and they're starting to utilize it and walk there and not feel that something's been done to them (because of the changes).  We're just trying to enrich the environment not just for humans, but for the animals, by diversifying the plants, the habitat.  We're trying to make it even richer so that everybody can enjoy it."
v10i21