"School ends and they don't get on the bus the following Monday.  All of a suden, holy smokes! we've got to find something to do!" says Park Superintendent and Recreation Director Steve Colt.  "Kids want to stay active.  They want to do something with their friends.  We had five camps start this week.  We have six starting next week.  We have upwards of thirty or forty different choices, different camps throughout the course of the summer including the Youth Services ones."
That's a lot of camps!  The selection is dazzling.  They include sports camps, activity camps, nature camps, music camps, Spanish camp... archery, orchestra, Lego, games, art, golf, cross country and track, horse back riding, soccer, softball, reading, bowling, baseball, football, basketball, ceramics, cooking, yoga, and general activity camps.  Additionally Lansing Youth Services is offering weekly programs including Dungeons & Dragons, Green thumbs, Art & Soul, Hiking, Rockets, board and other games, and woodworking.
"We're always open to new suggestions.  One that comes to mind was one we discussed last year: the Lego camp," Colt says.  "Legos have been popular for a long time, but it's hot right now because there is a Lego movie out.  (Lego camp director) Brenda Mead has expanded it twice now to accomodate all the kids.  It started out as a one session (per day) camp, then it went to two, and now it looks like we're going to have a third one."
The Lego camp runs July 28th through August 1st. 
"It's been great weather so far.  Wind and Waves (led by Jennifer Miller) starts next week.  It's pretty hot this year, because it covers sailing, wind surfing, canoeing, kayaking and stand-up paddle-boarding all in one camp.  With weather like this you certainly wouldn't mind getting into the water!"
Lansing school class sizes have diminished in recent years.  Only 75 seniors graduated in last week's commencement, and some of the other classes are small, compared to past years.  For now that means the target population is smaller for the Recreation Department as well, and that means that not all the camps fill up.
"I think we're on target," Colt says.  "We sort of obsess sometimes if a camp doesn't fill like it used to.  The times are different.  When a traditional camp doesn't fill as fast we tend to overlook that we've added six new camps that are full.  Some haven't sold out.  I think it's because we've just run out of bodies because we have so many choices.  There are so many different camps nowadays, unlike even ten or fifteen years ago.  It's still fun to offer the diversity.  You offer it and you scale your classes to what you think you might get."
School officials are projecting new classes will have more students.
"Which is a good thing," Colt says.  "It gives you more possibilities, more options.  But still, it's all about the percentage that do participate.  You can have a class of 60 kids and if 80% participate, that's a great thing."
Other camps like the horse camp are limited in the number they can handle.  But Colt says the horse back riding camp is offering seven sessions so more kids will get a chance to participate.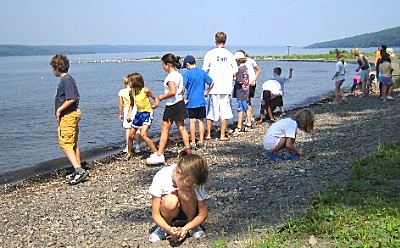 Most are on the Town ballfields, Myers Park, the Lansing Community Center and the Lansing schools.  Some like horse camp and rock climbing are held at specialized facilities.
"We've sold out on a lot of the specialty camps," he says.  "Some of the big camps don't really sell out -- they just get bigger."
About 25 kids were signed up for baseball camp, then suddenly there were 60 signed up. Colt says the camps collectively pay for themselves.  While some don't fill up many are very popular, helping to pay for the rest. 
"The more we can diversify to reach different types of people, the better it is," he says.  "We don't want to have sports camps only, because not everybody likes sports.  And we're here for everybody.  So we try to connect with as many people as we can.  That's what I think our job is.  And it seems to be working."
v10i25