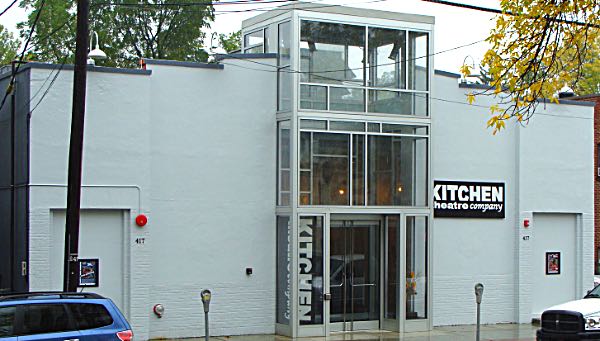 Kitchen Theatre Company's Board of Directors honored retiring Artistic Director Rachel Lampert with an appropriately theatrical ceremony in which the building's mortgage was 'burned.' In attendance were community members and representatives of organizations who donated to the over $190,000 Burn the Mortgage campaign.
Three people who had given leadership gifts spoke at the event: Percy Browning, Elizabeth McClafferty (on behalf of her husband Fred and herself), and Stephen Pope (on behalf of wife Linda and himself). Greg Hartz, President of Tompkins Trust Company and the co-chair of the original capital campaign to purchase the theater in 2008, spoke on behalf of the Trust Company. Bevin O'Gara, the incoming Producing Artistic Director, sent her congratulations via video.
All donors to the campaign were honored in a number performed by bass Zachary James, Artistic Director of Opera Ithaca: he sang a song to the tune of a Gilbert & Sullivan patter song that contained all of their names. Rachel Lampert expressed her deep appreciation for everyone who helped with the Burn the Mortgage campaign. Then it was time to burn the mortgage! Hilby the Skinny German Juggle Boy produced flames in surprising ways, and Ithaca's Fire Chief Tom Parsons was on hand to make sure that the burning was up to code and nothing went up in flames except the mortgage on the building.
James Morrisey, President of Kitchen Theatre Company's Board of Directors, explains why burning the mortgage is so important: "We wanted to honor Rachel Lampert's 20 years of visionary leadership of Kitchen Theatre Company in a tangible way, so when Rachel steps down, she will know that the building fully belongs to Kitchen Theatre Company, that the future is more secure, and 'important conversations' will continue with our new artistic director."
v13i24