It seemed fairly innocuous at first.  Seven new homes were proposed on a strip of land between Eastlake Road and Reach Run, one of the roads off of East Shore Circle.  Seven homes would not likely add significant traffic to an area.  But a connecting road was part of the development that residents fear would cause more traffic in the existing neighborhoods as drivers look for short cuts in an area along East Shore Drive they already consider dangerous.
That has escalated to a recommendation by the Lansing Planning Board Monday to fund an area traffic study that covers East Shore Drive from Asbury Road to Sun Path, including future traffic impact coming from Triphammer Road along Waterwagon Road, currently estimated at $6,750.
In an earlier meeting planning board member Richard Prybyl had insisted that a traffic study be required before approving plans for the Novalane subdivision.  A seven house subdivision is currently under review by the Planning Board.  Six lots are proposed to front on the extended Smuggler's Path, two of them flag lots.  The seventh would front on Reach Run.  A second phase could bring the count up to 16 homes, but that phase is not under consideration.
Prybyl said that the area is already dangerous and the impact of additional traffic generated by the new homes and an extension to Smuggler's path that would connect the Eastlake neighborhood with the East Shore Circle area.  At Monday's meeting Planning Board Chairman Tom Ellis said he supports a study because people in neighboring areas always want to know how new development will increase traffic.
"We've got to do something," he said.  "How broad it becomes is up to how much money we want to spend."
Two approaches were considered.  The first would be a limited traffic study estimated at $1,500 encompassing the area of the two roads that feed onto East Shore Drive.  A wider area study ranging from Sun path to Asbury Road estimated at $6,750 was considered because of other developments that are in various stages of planning along East Shore Drive.  Board members said that the study should also look at future traffic impact to the area from the proposed Cayuga Farms development, a 138 town house condominium project that is planned along Triphammer Road south of Asbury Road that is expected to bring additional traffic along Waterwagon Road.
Novalane developer Jack Young noted that connecting the two neighborhoods has been a long standing goal of the Town and the Planning Board, quoting from the Town's Comprehensive Plan.  he said that neighbors have told him that they want pedestrian interconnectivity between the two neighborhoods, but not vehicular traffic.  Young said that there is not much he could do to change the plans in that space.  Planning Board Secretary Larry Sharpsteen agreed.
"It was always the Planning Board's intention, regardless of development of the area between the two, that there be a parallel road that follows all the way up from Sun Path to teeter Road," Sharpsteen said.  "Mr. Young makes a good point that nothing that he does there is going to make any difference in regards to the intersection of the state road (East Shore Drive, State Route 34) other than the addition of any traffic that's commensurate with seven houses.  The Planning Board and the Town Board have always been in favor of that connector road."
He said that replacing the proposed through-traffic road with a cul de sac doesn't serve the wider interests of the Town as a whole, despite neighbor's objections.  But he added that a traffic study could add weight to this and future considerations of developments, and developers could contribute to the cost of a wider study that would impact other developments currently on the horizon.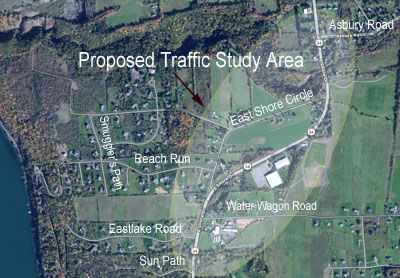 Young agreed to pay $1,500 toward a traffic study if the Planning Board decides they want one.  Attorney Lorraine Moynihan Schmitt said that new developments in the affected area could be assessed some of the cost to reimburse the Town for the expense of the study.  Town Engineer David Herrick said that traffic studies are typically useful for a five year period before a new study is needed.
In late May the flap prompted the Town Board to consider a town-wide traffic study that would look at impacts of developments along Lansing's three main feeder roads: East Shore Drive and triphammer and Warren Roads.  This study would be conducted if the Town could obtain grant money to conduct it, and would be in addition to, not instead of the area study in the East Shore Circle/Eastlake Road area.
v10i22