It was a fifty miles down the road on a frozen night in May when we saw the welcoming lights of the
Sherwood Hotel
. Teeth chattering, I pried my hands off of the motorcycle, and we shivered toward the parking lot entrance to the hotel. I asked one the first person I saw, "Is this where we check in?" With a broad smile, she beckoned us to the front desk. From this moment, I knew that this would not be "just another night at a hotel", but a warming treat for the soul.
The young girl at the front desk checked us in, then to my great surprise, walked us to our room, telling us of the storied history of The Sherwood Hotel, of the many famous people who stayed there, and of course, of the ghost in room 28.
Our room was nice – what you would expect in a country village, but I confess, I have never slept on a bed so high. It requires a bit of a jump to get in, but ooooh, what a luxurious feeling once I got there…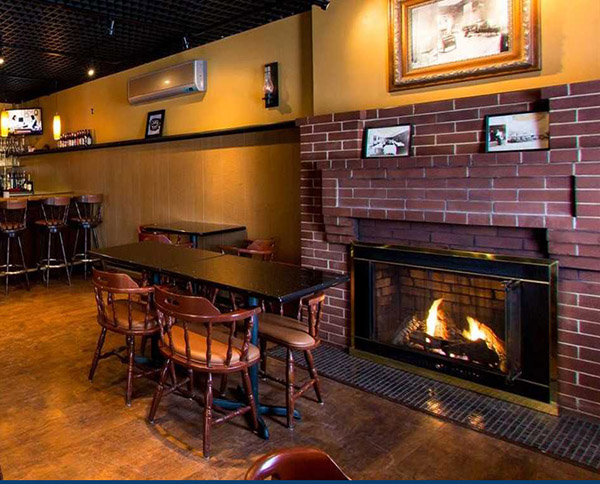 Still thoroughly chilled and very hungry from our frigid journey, we ventured back to the main lobby to ask if they were still serving dinner, and were given our choice of a sports bar, or a quieter tap room with a fireplace. Fireplace! Yes!
Again, we were escorted to the restaurant, and left in the very capable hands of our waitress Sally.
Huddled at the antique table nearest the fireplace, we slowly warmed our hands and nursed our wine, waiting for our meals to arrive, very tasty quesadillas, which they prepared in impressively short order. By the time we were warmed and fed, the waitress had become an old friend, and the people at the other tables were joining in the conversation as if we all were at a common dinner table.
This is the charm of the Sherwood – a combination of comfort, welcome, warmth and an atmosphere that encourages friendliness – ok, and a little romance too…
Greene, NY is a charming little village planted in the middle of nowhere. Situated between the urban centers of Whitney Point and Bainbridge (insert laugh here), it is one of the sleepiest and least stressed places imaginable. A reasonable drive northeast will take you to Cooperstown and Howe Caverns. A shorter drive south leads you to Binghamton and its many attractions like the B-Mets baseball team who are always entertaining.
Directly to the west is Watkins Glen with its race track, natural wonders and wineries.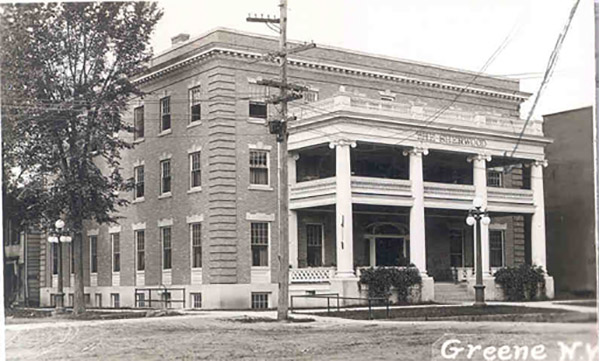 So way am I writing this now? First, it cools me down after such a hot summer to think about being frozen on the bike, and second, because I know SOME of you will want a romantic evening or weekend out of town, but need to find an extraordinary place close enough to be "within reach".
The 19 room Sherwood Hotel opened its doors in 1913 as a country inn, and was completely renovated in 2013, without affecting the antique charm that flows from every nook and every staff member. Room rates are modest, $109 to $169, and though it is a 3 star hotel, everyone is treated with 5 star friendliness. The hotel looks almost exactly like the postcard, but I suspect when you see it, it will be in color…
The Sherwood Hotel is at 25 Genesee St, Greene, NY 13778
For you who have been following my column (Many, MANY thanks, by the way) I will be OUT of reach the next two weeks touring Maine, Nova Scotia and New Brunswick by motorcycle with my wife, who I like to call my girlfriend of 42 years. Oh I'll write the column and provide some photos, and share some of our adventures, but they won't necessarily be 'within reach', unless you have a very long reach….
---
'Within Reach' highlights the food, wine and fun of places 'within Reach' of Lansing NY. Of course, your reach extends exactly as far as you want it to. I am
Monroe Payne, Uncle Monte
to some. Come with me as I visit, taste and play in our own back yard, the beautiful Finger Lakes of Central New York.
v12i32