Lansing Fire Department volunteers, their families and well wishers filled the Lakewatch Inn Friday at a banquet to honor their top achievers for 2016. Lansing volunteers responded to 846 calls in 2016, 407 in the Village of Lansing and the rest in the Town outside the Village. Officers, elected each year by department members, were sworn in by Tompkins County Director of Emergency Response Lee Shurtleff.
"The previous year was an interesting one with a number of challenges along the way," Shurtleff said before administering the oath of office to the seven 2017 officers. "One of the reasons that you're able to meet those challenges and do as well as you've done is in no small part due to the elected leadership. It's my pleasure to be able to install those leaders for the year ahead."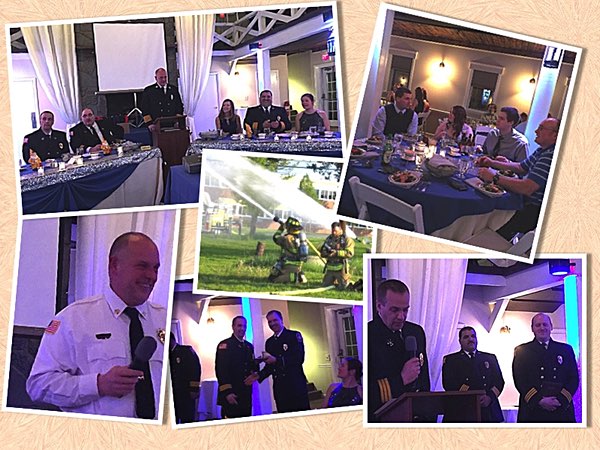 Representatives from the Tompkins County Department of Emergency Response; New York State Police; the Cayuga Heights, Groton, Locke, King Ferry, Genoa, McLean, Ithaca Airport, Freeville, and the Dryden Fire Department, New York State Fire Instructor Tom Basher, Daddy & Son, and T&R Rescue Solutions attended.
In 2016 Lansing responded to 22 mutual aid calls outside the district and received help on 24 occasions.
"Of the 24 times we called for mutual aid, we called Cayuga Heights 22 of those times," Chief Scott Purcell Noted.
The Cayuga Heights Fire Department was covering for Lansing during the banquet. Lansing will take calls for Cayuga Heights when its department holds its banquet in April.
Of Lansing's 846 emergency calls last year, 393 were fire calls and 453 were EMS. Grey Bartholomew, Mariano Garcia, Nelson Golden, Josh Nalley, and Mike Robinson each responded more than 100 times. The third overall top responder was Larry Creighton, who responded 139 times. Rebecca Drake was second, responding to 154 calls last year. The overall top responder for the year was Terry Jackson, who responded a remarkable 247 times.
"Some of the notable calls we responded to were the fire at the power plant and the Cargill rescue," Noted Deputy Chief Brad George. "It took about ten or twelve hours. Obviously it turned out well."
Drake and Jackson were also named EMS Responders Of The Year. The training awards were presented to Jackson for the most Department Proficiency training hours, and Nelson Golden for overall training hours, which include department proficiency hours and state fire courses. The Joe 'Ditty' Joseph award for years of dedication and service went to Tom Sill. The Dedication and Service award went to Gary Brooker, and Rookie of the Year was Grey Bartholomew.
Grey Bartholomew, Jason Berga, Gary Brooker, Larry Creighton, Rebecca Drake, Nelson Golden, Terry Jackson, Traci Lisi, Josh Nalley, Mike Robinson, Tom Sill will have their names engraved on the 2016 Chief's Award plaque, which reads, "In recognition of outstanding service, for going beyond the call of duty, for being there when it is not convenient, for going the distance and then a little further. We recognize these members."
"These are the people that go on a lot of calls, attend way more training than the minimum and do a majority of the truck checks," Purcell said.
Volunteers were also recognized for their years of service as of 2016. Grey Bartholomew, Josh Nalley, Isiah Oaks, Cole Quigley, and Sara Spencer completed their first year. Joe Lisi and Don Simons completed five years; Matt Day, Mike Day, Traci Lisi, Kayleen Miller, and Scott Walters ten; Mike Drake and Kim Sweeney 15; Frank Towner 20; and Assistant Chief Dennis Griffin completed 40 years as a Lansing Fire Department Member.
"The most important people the Office of the Chiefs would like to thanks are the spouses, significant others, and all the families of emergency responders of the Lansing Fire Department," Purcell said. "We understand your loss of family time and all the sacrifices you make day in and week out. I want each of you to know that the Chief's Office and the Fire Commissioners of the Lansing Fire District truly appreciate your support. Without your support and understanding we would not be able to effectively respond to all the calls that we received this past year."
v13i5