By

Dan Veaner

Around Town

Print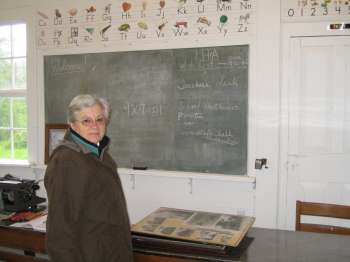 Town Historian Louise Bement
"Ed Schofield graduated from 8th grade here in 1937," says Bement. "When he came to the first open house we had one of his teachers here, Lyla Dean. She has since passed away. He has been here every single year."
She recalls the first time she met Schofield. She saw him in the back room pointing to his father Charles H. Schofield's initials carved into the wall when he attended the school. Charles was was a supervisor of the Town of Lansing. "Ed was here showing his son those initials. I walked in and said, 'you must be Ed Schofield!'"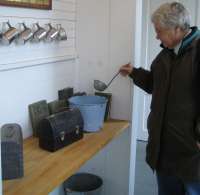 Cups and lunchboxes were donated by Ed Schofield, who attended
the school and visits every year.
The school house was originally located on Peruville Road, but was moved to its present location to be a part of the town square. Named for teacher Evelyn Field, the building was donated to the Historical Association to be used as a museum, and it was moved to the Town Square in the spring of 1992. Volunteers restored it with authentic period books, desks, period accoutrements and wood stove, and its first open house was held in June of 2002. Currently the schoolhouse is open to the public by appointment and each year on Super Saturday.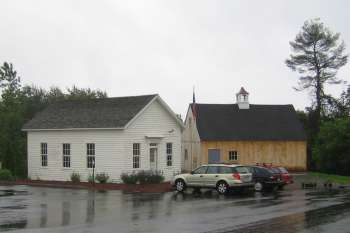 Schofield provided help to the restorers. "He gave us the globe and the table the globe's on," Bement recalls. "He gave us the lunch boxes and cups out front. He was the one who gave us the diagram for setting up the building."
Bement says it wasn't the busiest open house she has hosted at the school but says, "it was nice. I read a lot of my book, 'John Adams'." And she got chicken barbecue from the Pee Wee football team that was selling lunches that day. "I always say we stay here until the chicken barbecue runs out or Ed Schofield shows up." This day she got both.
----
v2i23
Town Historian Louise Bement opened the Field Schoolhouse for Super Saturday last weekend. Despite the rain, a few people came to visit the historic building. "About ten showed up in bits and pieces," she said. "Ed Schofield came with his son, Jim, at 12:30 and stayed till 1:30, so it was well worth the open house. A woman brought her 85 year old mother from Churchville, NY and that older lady enjoyed the school, too."