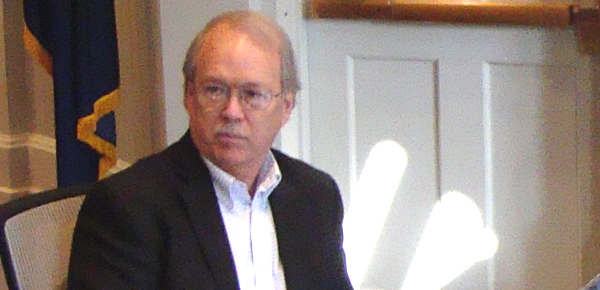 After 16 years of leading Tompkins County's Planning arm, Commissioner of Planning and Sustainability Ed Marx has announced plans to retire from County service in late August.
Marx joined Tompkins County in 2001 to serve as Commissioner of Planning. During his time with the County, responsibilities have also included half-time service as Deputy County Administrator between 2004 and 2005, and executive management of the Public Works Department as Commissioner of Planning and Public Works from 2005 through 2012. Revisions to the County Charter earlier this year included a department name change to better reflect Planning Department responsibilities and the Legislature's priorities, and Mr. Marx's title changed to Commissioner of Planning and Sustainability.
Responding to Marx's announcement before the Legislature's Planning, Development, and Environmental Quality Committee May 4th, Committee Chair Martha Robertson commended the Commissioner for his service, for the staff he has brought on board, and for the department he has built over 16 years. "It's been amazing to work with you," she said. "Everything you do is world-class. You put Tompkins County on the map…and we are extremely grateful."
"Our Planning Department has achieved state and national recognition for the quality, foresight, and importance of the work it has done to help the community navigate through challenges ranging from affordable housing, to transportation, and, especially, to climate change," notes County Administrator Joe Mareane. "Work that Ed and his staff are doing to anticipate and mitigate climate change is setting a template for local governments across the country. Regardless of his title, Ed has been a key player and change agent in our organization since he arrived in 2001. He has assumed that role with humility and respect for his colleagues and community members."
Marx told the Committee that he will remain fully engaged through his retirement date, and beyond if that would be helpful. He expressed confidence in his staff to carry on the Department's ambitious work program.
v13i19