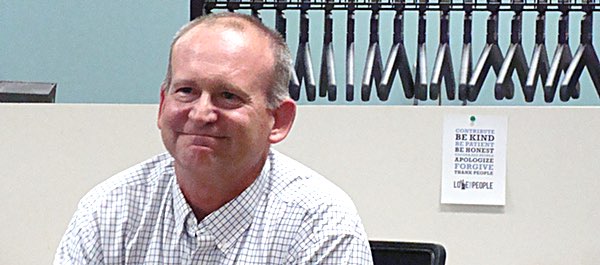 Lansing Board Of Education member and Glenn Swanson was honored for his 12 years of service Monday at his last board meeting. Swanson has been instrumental in development and flow through of capital projects, and served several years as Board President. Current School Board President Christine Iacobucci presented Swanson with some joke gifts, and gave a heartfelt tribute to him.
"Glenn, we've been through a lot together," Iacobucci said. "We've had our ups and our downs. What people don't realize is that Glenn has been an incredible board member and colleague and friend. He invited me, as his Vice President, to go to a training session in Rochester, where we broke bread with each other. He was very influential "Light Up The Night', a cross country event. He invited my children to spaghetti dinners at his house. On a personal level he came all the way out to Cortland Tompkins Community College and gave a lecture to my students from Brazil. He and (former school board member) Tom Robinson took my students on tour at the Borg-Warner plant."
A parade of school administrators and school board members served the school district during the 12 years Swanson served on the board. Iacobucci summarized the 12 years Swanson served in a mini history:
"Glenn filled a seat vacated by Michael herzog in 2005. At that time Dan Brown was President, and I was Vice President. Anita Lindberg became President and Anne Drake became Vice President. Corliss Kaiser had left (as School Superintendent) after one year and Tiffany Phillips was our Interim Superintendent. On the Board were Dan Brown, Anne Drake, Tom Keane, Bonita Lindberg, Glenn, and myself. In July of 2005 the board voted to move the meeting nights from thursday to Monday.
"Mark Lewis was appointed Superintendent in October of 2005 and there were murmurings of sewer. For the first time the school budget was actually defeated in May of 2006, and later that year there was a failed attempt to move the fifth grade to the elementary school. In May 2007 Mike Cheatham and David Dittman joined the Board and I left the Board. By August Mark Lewis had hired Chris Pettograsso as our Elementary School Principal. At the time Michelle Stone was High School Principal, and jamie Thomas was Middle School Principal. Mark Lewis left, and Tom Helmer was Interim, and then Steve Grimm became Superintendent on January 2nd, 2008.
"In may of 2008 Glenn Swanson, Glenn Cobb, Dick Thayler, Anne Drake, Sandy Dimitri, and Dave Dittman were on the board and (Business Administrator) Mary June King was hired. In 2009 Aziza Benson won a school board seat) as a write-in, and by the 2012-13 school year Dr. Grimm left and the Board appointed Chris Pettograsso as our Interim Superintendent."
Iacobucci presented Swanson with a world journal and Alaska stickers for his continuing travels for his Borg Warner job. Swanson will be in Alaska next week. She also gave him ear plugs because he is no longer required to listen to people on school matters, and a 'handy hammer tool' in place of a gavel to commemorate his time as board president.
"Glenn has been a wonderful contributor to our facilities work, and to our fiscal questions," she said. "He has a wonderful sense of humor."
Pettograsso presented Swanson with a framed aerial photograph of the school campus.
"It's been an honor to serve the Lansing community," Swanson said. "It's been a challenge at times, but a very rewarding experience. Thank you all very much, and I'm around if you need me."
v13i24