"You're all we've got. Make us proud, team, and bring our ship home. Reed out."
"Who is this Admiral Reed anyway? It doesn't matter, he's in charge of the Third Solar Fleet, and he's given us a mission. Let's get it done."
Here begins a difficult, intense and fun adventure into rescuing the USSC 308 Wayward Storm. It's all part of
Quest Adventure Gaming
, a fully immersive and exciting gaming / roleplaying experience, now open in Watkins Glen.
Unlike many of the other 'escape room' attractions available in central New York, this one (and those to come) are story driven with a very human element. Personal video logs, belongings in the lockers – even their garbage give it a reality and personality that must be experienced.
And the space adventure is only the first of several to come.
Have I experienced the adventure? No. I don't want to without a crew. I have teen grandchildren though… They might make a formidable crew. The experience is appropriate for 2 to 6 participants.
Alex Richmond is the creator of Quest. He is a fascinating combination of computer geek, historian, traveler and visionary. Oh, and carpenter too. The set of the Wayward Storm is neither shiny plastic or rough lumber – it is a well thought out and crafted environment set, complete with lockers, touch screens, the main viewer, and controls of every kind appropriate to the story.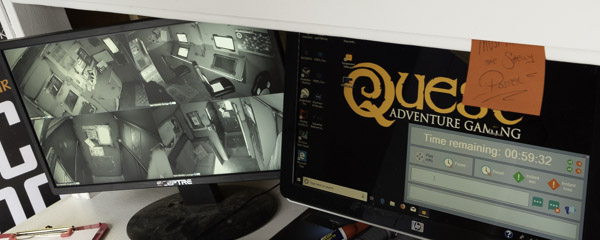 The background noise, ship sounds, cooling fans and a general feeling of motion make the experience even more real. With the slightest effort, you can believe you are actually on the ship…
I had the pleasure of spending some time with Alex at Quest, going behind the curtain and seeing what actually goes on. Cameras are placed in the adventure room so Alex can keep an eye on the action – and even offer a hint or two if the players get hopelessly stuck. They are never completely alone.
Behind some other curtains are the beginnings of the next adventure room. Watching the excitement on Alex's face as he described the process and his vision led me to believe the result will be extraordinary!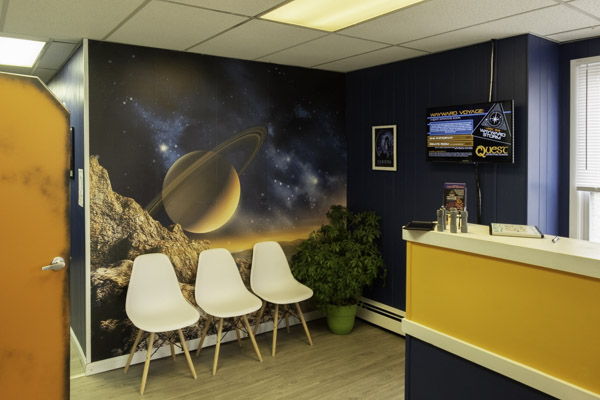 Hosting adventures is in Alex's blood, having led many groups to Europe. He has a special fondness for Rome, where even more history is being discovered every day. He uses his extensive knowledge and fertile imagination to create adventures that exercise the mind and make use of your powers of observation.
The next project will be 'Sweet Nightmares', just about as far from space as you can get but just as intense. The set is just now under construction. I can't wait to see the completed project!
What does the future hold? I suspect it's large…
---
'Within Reach' highlights the food, wine and fun of places 'within Reach' of Lansing NY. Of course, your reach extends exactly as far as you want it to. I am
Monroe Payne, Uncle Monte
to some. Come with me as I visit, taste and play in our own back yard, the beautiful Finger Lakes of Central New York.

v14i28