By

Kelly Barclay

Around Town

Print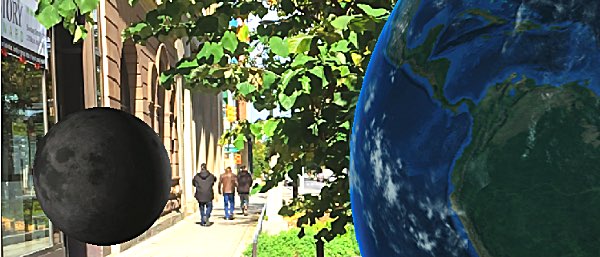 The Sciencenter's Sagan Planet Walk is a 1 to 5 billion scale model of the solar system which people can traverse over 1.2 kilometers from the Ithaca Commons to the Sciencenter. The Sciencenter recently had the pleasure to partner with Becky Lane and Jacob Madden of Rev member company, VisionLab 360, as well as Cornell's Spacecraft Planetary Imaging Facility (SPIF), and Elmira Savings Bank, to enhance our Sagan Planet Walk. These enhancements include exciting augmented reality features at each station, as well as design upgrades at each station, and a new website.
The new augmented reality features bring a stunning life-like interaction to each of the Sagan Planet Walk's stations. Through the use of a smartphone app, available via The Apple App Store and Google Play, people can experience the stations in a fascinating new way. Users can point their AR-enabled phone at the kiosk and see 3D animated planets rotating before them. They can walk around the planets and see any moons in orbit, as well as listen to Bill Nye describe the planet, read information about the planet, and get directions to the next planet along the walk.
"The Sagan Planet Walk was an ideal candidate for Augmented Reality. It's already a popular walking tour…and had existing valuable assets such as kiosks, signage, and voice narration by Bill Nye, The Science Guy. We took all of those ingredients and brought in augmented reality (AR) technology," says Becky Lane, CEO of VisionLab360. "We are thrilled to be working with the Sciencenter on this project and bring a new, immersive element to an already popular community and tourist attraction."
Rev: Ithaca Start Up Works is excited to have one of their member companies bring the Sagan Planet Walk augmented reality vision to fruition.
"Ithaca was recently ranked the 13th best city in the United States for innovation and technology by USA Today. It is entrepreneurs like Becky Lane and VisionLab 360's creative Sagan Planet Walk augmented reality experience that earned Ithaca that recognition," said Ken Rother, Director of Rev: Ithaca Startup Works. "VisionLab 360 has married creativity and the latest in augmented reality technology to help the public learn about our solar system in an engaging and fun way."
Along with the new Augmented Reality features, station graphics and
a new website
have also made the Sagan Planet Walk more interactive. The website features a map of the walk, additional interesting information about the solar system, and details about how to acquire a Sagan Planet Walk Passport to the Solar System, which earns participants free admission to the Sciencenter when filled out completely.
v14i47