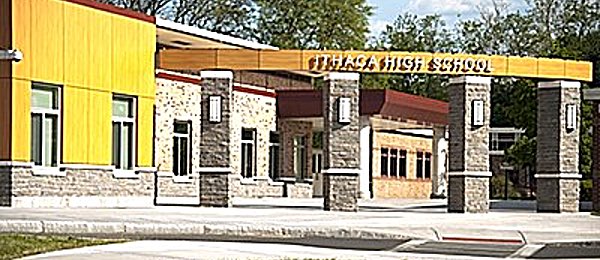 Ithaca High School senior Rowan Lynch is one of only 16 students in the world to earn a perfect score on the Advanced Placement (AP) United States History Exam last May.
The College Board's AP Program provides students the opportunity to pursue college-level studies while still in high school. All AP courses are modeled on comparable introductory college courses in their subjects and culminate in a standardized assessment, or AP exam. AP Exams are scored on a scale of 1 to 5, where a 5 is equivalent to a grade of A in the corresponding college course.
Not only was Lynch among the 10 percent of students who received the top score of 5 on last year's AP United States History Exam, he was among the 0.003 percent who earned every possible point on the assessment.
Lynch said he was somewhat surprised to learn he had earned a perfect score last month, and was quick to praise his AP United States History teacher, Phillip Jordan. "Although I received the score, much of the credit for this accomplishment belongs to Mr. Jordan, as he created an enjoyable and challenging atmosphere that benefited every student," he said.
Next fall, Lynch will attend the Eastman School of Music at the University of Rochester. Although he'll major in jazz studies, Lynch said he looks forward to enrolling in history classes as well.
"The content is always interesting, and often puts current events in a broader context that yields fresh insights," he explained. "There are so many fascinating stories lurking in the past…from thought-provoking solemn events like Nat Turner's Rebellion to entertaining absurdities like Tycho Brahe's inebriated moose."
v15i17