By

Dan Veaner

Around Town

Print
Those familiar with Baker's Acres may not know the Baker family's other commercial endeavor. For about ten days each year the Bakers run a restaurant at the New York State Fair. Baker's Chicken Coop can be found near the horse barns and the swine and goats building in a double lane row filled with food and merchandise booths.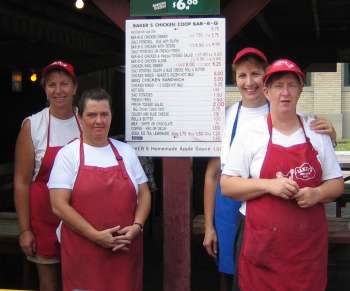 (Left to Right)Reenie Sandsted, Karen Applebee, Regina Baker Robbins, Jo Baker
Each year the Bakers set up shop in a big red building with covered seating on either side where customers line up for chicken dinners, wings, salt potatoes, salads and a whole menu of delicious choices. The smell of chicken is irresistible as you walk by and it's hard not to go in and get a plate of chicken.
The tradition was begun 56 years ago by Bob Baker, a retired Cornell professor, and his wife Jackie. Dr. Baker is known for inventing "Cornell Sauce," a marinade for chicken. They ran the restaurant until 1988, when their daughter Renee Sandsted took it over.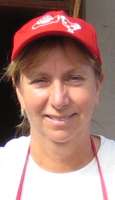 Reenie Sandsted
The second generation of Bakers runs the restaurant now with a little help from the third. The family uses the extra income to help with college tuitions among other things. There are not many Baker's Acres people here," says Renee. "We use a lot of Syracuse people here. We've made a lot of friends." Because of that she doesn't hire people off the street, but hires people who have worked there before and those recommended by people she knows. While she is at the fair she leaves Baker's Acres in the hands of her assistant manager, Cathy Kessler.
Cousin Lainie Hawley and Jo Baker
The restaurant is run by four women, but the whole family gets into the act. "Two days ago all of us were here," says Jo Baker, another daughter. All together there are three brothers, three sisters and a foster sister, Karen. "She helps in the business, too," says Jo. The restaurant is right in the middle of one of the fair's thoroughfares. "We see a lot of Lansing people go by," Jo told us.
Jo says they see many repeat customers year after year. "They'll always say, 'I've been coming here for 40 years or 35 years. This is the only reason I come to the fair.' They track our prices. They always comment on the prices when they go up or down."
By 11am the crowd was beginning to line up. A worker was bringing a cart of barbecue charcoal into the kitchen. Customers had only one thing on their minds: delicious Baker's chicken.
Bob Baker's Cornell Chicken Sauce




1 Egg

1 C. Vegetable Oil

2 C. Cider Vinegar

3 Tbs. Coarse Salt

1 Tbs. Poultry Seasoning

1/2 Tsp. Freshly Ground Black Pepper




Beat the egg, add oil and beat again. Add remaining ingrediants and stir. Use the sauce for basting. While barbecuing brush sauce on chicken each time you turn it. Leftover sauce may be refirgerated for several weeks. These ingredients make enough sauce for 10 chicken halves.







----
v1i7