By

-Staff

Around Town

Print

On April 9th, Colonel Jeffrey N. Colt was promoted to Brigadier General in the US Army. Currently, Jeff serves as commander, Joint Unmanned Aircraft Systems Center of Excellence (JUAS COE), Creech Air Force Base, Nevada. Colt is from Lansing, New York. He is married to Nancy Johnson and they have two sons, Hunter and Sam.
A career Army aviator qualified to fly several different rotary-wing aircraft, Colt has deployed in support of operations in the Persian Gulf, Panama, Somalia, Afghanistan and Iraq.
Colt, a 1978 graduate of Lansing High School and a 1982 graduate of the University of Colorado, Boulder, has commanded at the company, troop, squadron, battalion, and brigade levels, including the 159th Combat Aviation Brigade, 101st Airborne Division. He gained interagency experience serving as assistant deputy director for strategy and policy on the Joint Staff.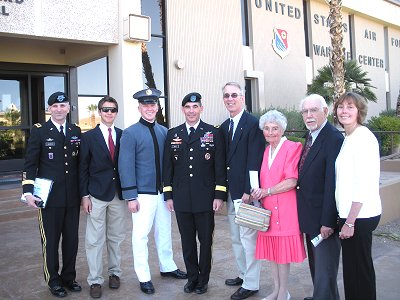 (Left to right) General Michael L. Oates, Sam Colt (son), Hunter Colt (son), General Jeff Colt, Steve Colt (brother), Mary Colt (mother), James Colt (mother) and Susan Worsell (sister)
Photo by Ann Colt

He also received master's degrees from Webster University and the National Defense University's National War College.
His awards include the Defense Superior Service Medal, Legion of Merit with Oak Leaf Cluster, Distinguished Flying Cross, Bronze Star Medal with Oak Leaf clusters, Meritorious Service Medal with Oak Leaf Clusters, Air Medal with V Device, Army Commendation Medal with Oak Leaf Cluster and the Army Achievement Medal with Oak Leaf Cluster. He also wears the Ranger tab, Jumpmaster and air assault badges, and Royal Thai Parachutist Wings.
Three-Star U.S. Army General Michael L. Oates conducted the promotion ceremony that was also witnessed by staff, friends, as well as his parents, James and Mary Colt, his brother Stephen and his wife, Ann M. Colt, and sister, Susan Worsell. Two lifelong childhood friends from Lansing, Riad Shalaby from Georgia and Joe Snyder from California, were also present.
A congratulatory reception was held at the Officers' Club at Nellis Air Force Base immediately following the ceremony.
----
v6i16