By

Monroe Payne, Monroe Payne Photography

Around Town

Print
The Harbor Hotel in Watkins Glen is really quite spectacular. It was just voted the #1 best waterfront hotel by 10best.com. I was there looking at the hotel as an option for a convention in 2018, and it seemed to fit the bill. All the normal stuff – ballrooms, lobby, a place for registration and everything necessary for a good conference.
With the business, out of the way, we decided to visit the hotel restaurant, the
Bluepointe Grille
for a quick lunch before our trip back to Ithaca. As a rule, I'm not fond of hotel food. In many cases people eat there, not because it's great, but because it's convenient. And your overpriced meal can be charged to your room.
With these pleasant thoughts lurking in the corners of my mind, we entered a delightful and richly appointed dining room, fireplace cheerily burning, outside light sparkling off each piece of crystal and display cases full of Finger Lakes wine.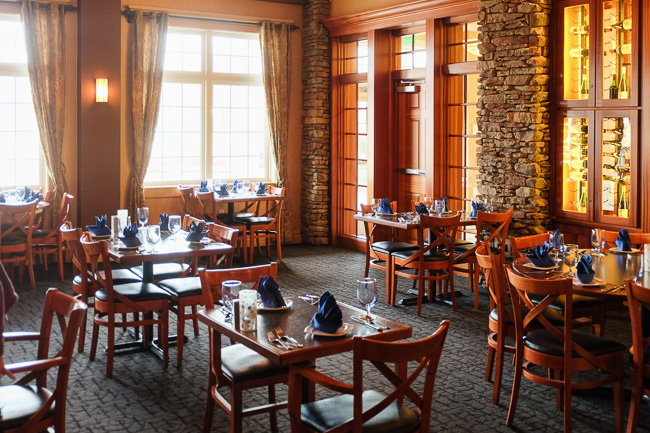 Good so far. Our server told us the specials of the day – roasted cauliflower soup, and an Alpine Burger platter. They sounded intriguing.
The floor started to rumble as a salt train passed about 50' from the rear of the restaurant, between us and the magnificent view of Seneca Lake. Why I hadn't noticed the view was probably because of the pretty lady on the other side of the table, but that's another story altogether.
First to arrive was the bread bowl with 3 different kinds of bread and 3 different toppings. One was plain whipped butter, another was garlic and herb whipped butter and the third – defies description. I know olives are involved, but little else. The breads were nice and warm, an exquisite olive loaf, Italian bread and a sesame flatbread.
The Roasted Cauliflower soup pleasantly surprised me with its overtones of fire – much like roasted corn absorbs the flavor of its husks on fire. The texture was similar to that of the lobster bisque I raved about last week.
Our server brings out the Alpine Burger platters. A moment of stunned silence, and he says "Now comes the hard part – making it through these!" The burger was a veritable mountain of meat topped with bacon – lots of bacon, smothered with mushrooms and swiss cheese. The other half of the sandwich waited patiently on the other side of the plate; the top bun, lettuce, tomato, onion and pickles. The fries were crunchy but soft in the middle and unlike other fries I've had, they truly did have a potato in their past. Just like the iced tea. Strong as a good tea should be without being bitter. Just right.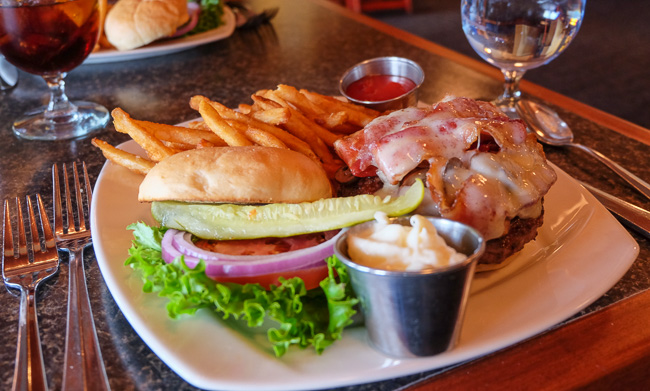 A pleasant surprise was the bill - $35 for the two of us, and I left a generous tip to a conscientious and friendly server.
I'll have to try dinner here. If their entrees are as good as their lunch specials, we're sure to be delighted.
The hotel and restaurant staff have the refreshing feel of "small town" friendliness and warmth. They are totally devoid of stuffiness or pretense; just genuine people doing their very best to serve you.
You can call them at (607) 535-6116. It is very worth the short trip to Watkins. You'll be glad you did! The address is 16 North Franklin St, Watkins Glen NY 14891, truly within reach.
---
'Within Reach' highlights the food, wine and fun of places 'within Reach' of Lansing NY. Of course, your reach extends exactly as far as you want it to. I am
Monroe Payne, Uncle Monte
to some. Come with me as I visit, taste and play in our own back yard, the beautiful Finger Lakes of Central New York.
v13i8