By

Office of Congressman Tom Reed

Business & Technology

Print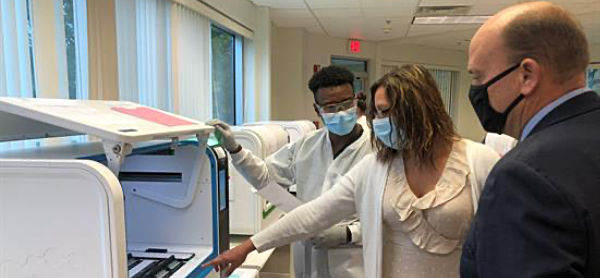 On Tuesday Congressman Tom Reed met with officials from Rheonix, a local molecular testing company in the Village of Lansing, to tour two manufacturing sites and a testing lab. Working with Cayuga Health System and Tompkins County, the team has stepped up to the challenge and is processing COVID-19 tests for the community. Rheonix received FDA emergency use authorization for its COVID-19 test in late April.
Reed spoke with Greg Galvin, Rheonix CEO and Founder; Phil Proujansky, Rheonix board member; and Martin Stallone, President and CEO of Cayuga Health System. Reed actively collaborated with local medical leaders, like Rheonix, to help provide pathways for testing in the district and ensure they have the resources they need to serve people.
"We are proud of our medical innovators in the 23rd District and their incredible work to support the fight against COVID-19," said Rep. Tom Reed. "Rheonix is helping to increase access to quality testing, and we are grateful for their hard work during this difficult time. We will continue to coordinate with our local health care centers and testing providers to ensure they have fair access to the federal resources and funding they deserve."
Rheonix was founded in 2008 to address testing needs across a variety of areas, and is located at 10 Brown Road near the entrance to the Ithaca-Tompkins International Airport.
v16i41