Garrett heard the business was for sale through Sharon Garland, a friend who had been working at Meadowridge and knew the former owners were looking for a buyer.  Garrett was working at Lakewood Animal Hospital in Horseheads, but had been thinking of owning her own animal hospital.  "I did a lot of management," she says.  "Well not so much management there as being involved with it, doing planning, that kind of deal.  So I got to really see how a lot of things are run and getting into more of the business side of it and seeing how things went and decided I wanted to do it myself."
So she was receptive when Garland gave her the tip.  "I really thought about it long before but also, too, as an employee veterinarian there is only so far you can go," Garrett says.  "You can do medical things but it's limited how much opportunity you have to change the thing you want to change and do things your way."
Immediate changes have included tiling floors and running network cables to merge the kennel and veterinary practice computers.  Garrett and partner Kathy Hughes spend their 'spare time' making the changes.  "I've learned to tile floors since I bought this place," Garrett says.  She adds that they have had to pick up other skills as well, not only to manage the animal services business, but because apartments came with the business.  "That might have been the biggest challenge," she continues.  "That was not in my original plan.  There are five apartments.  So I also joined the landlord association and tried to learn a lot at once.  Nothing like learning about sales tax, how to put down a floor, and how to convince people to pay their rent!"
Hughes, also a veterinarian, works at the Horseheads practice, and Garrett herself still works there one day per week.  But Hughes also gets her hands dirty working on the buildings.  "Kathy always describes herself as the dragger heavy things," Garrett says.  "She helped put the floor down.  She's also involved in making decisions here and since it came with the apartments, she ends up doing a lot of maintenance things."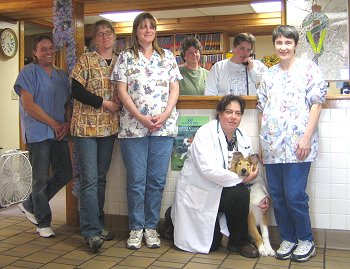 (Left to right) Veterinary Assistant Suzie Tarbotton, Veterinarian Bridget Barry, Receptionist Deb Usham, Licenced Veterinary Technician and Practice manager Sharon Garland, Receptionist Lezlie Kennedy, (kneeling) Veterinarian and owner Linda garrett, Cory the collie, Licenced Veterinary Technician Cindy Corina
Another aspect of owning her own business is managing a staff.  She knew some of the veterinarians through professional channels, but little of the staff, which numbers around 24, including five veterinarians and three licensed technicians.  But Garrett says that her staff immediately put her at ease.    "They are cool people," she says.  "It's really nice.  The first staff meeting I did I was so nervous and everybody was like, 'here, have a piece of pizza'."

Garrett put out a suggestion box for employees and clients alike.  She says that many  good suggestions have come from the youngest employees who work in the kennel.  "A lot of suggestions have come from the high school kids and they have been really good," she says.  Things like we need lights out back, and things I wouldn't necessarily notice because I'm not usually out there trying to pick up at 6pm on a winter night.  It's really nice if you can see what you're doing."
With undergraduate and doctorate degrees at Fordham University, Garrett also went to the University of St. Andrews in Scotland for a year, and was an exchange student in Australia.   Her masters degree is in behavioral physiology in animal behavior.  After deciding to switch to veterinary medicine she went to the Cornell School of Veterinary Medicine, after which she worked in large group practices in Philadelphia for about 10 years.  But she wanted to move back to the Ithaca area, first working at Briar Patch, and eventually practicing in Horseheads.
Garrett says that most of her practice is dogs and cats.  "We just do basics on exotics because Cornell is down the road with all the specialized knowledge and the equipment they have," she says.  "But I just did bunny exams for a couple of bunnies this week and was explaining to somebody about overgrown guinea pig teeth."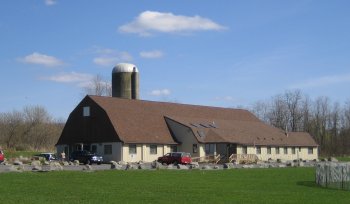 Originally a dairy barn, the North Lansing facility has been an animal
hospital and kennel for almost 25 years.
She is also encouraging her staff to weave behavioral and dietary advice in with medical treatment.  "Probably one of the things we would like to specialize more with is animal behavior, because we have a bunch of us now that do training and behavior stuff," she says, adding that this can include puppy socialization or training a difficult dog to stand still while being muzzled.  "Sharon Garland does agility and herding lessons and basically is great with inter-dog problems.  I have not as much of a practical background as she has but I have the degrees, and I do dog training too.  We are trying to get into more of that because I think if you make a difference when you're doing puppy socialization things like that, you can avoid 90% of the problems that cause people to end up dropping their dog off to get rid of them."
Owning her own business has presented some surprises, including how long it takes to get things done.  "Sure, we'll connect the computers together," she sighs.  "It's been four months now.  They are physically connected but they are still not running in synch.  And personnel is always a challenge, how to get people working to their capacity and that kind of thing.  Not a lot of surprises because it was an excellent practice to start with.  Some of the things that I've found in back corners have been interesting too, because the place has been here for 25 years and every once in a while you go what is that?"
Garrett is exuberant in her enthusiasm for what she does, and the challenges of owning a business as well as treating animals hasn't slowed her down.  "I actually enjoy coming into work almost every day," she says.  "My favorite things so far is simply getting to meet clients and animals around here.  I really like the people I've been meeting and the energy level has been really fun, especially with a lot of the kids.  The other thing that has been really nice is how very nice the clients are, but that hasn't been a surprise."
----
v3i17
After 23 years as a mainstay of North Lansing, The Boarding Barn and Meadowridge Veterinary Hospital has been under new management for the past three months.  New owner Linda Garrett, a veterinarian and Ithaca native, says that even with the new management very little will change.  "I think it's a really nice hospital," she says.  "I like the way things are done.  I'm just starting to make some gradual changes.  But as far as main things everybody does a really good job and I like the way they interact with clients and pets and all the rest of it, so we've more slid me in then changed anything else."