By

Dan Veaner

Business Profiles

Print
This week the Pyramid Ithaca Mall announced that they will be sporting a new name: The Shops at Ithaca Mall.  Mall officials say the name change will be gradual, but it comes because of new directions the mall will be taking, starting with next week's opening of Regal Stadium Cinema 14.
The Star met with Principal Partner Eric Goetzmann and Genral Manager Gena Speno at their office to talk about the new name and what it means for the future of Ithaca's largest mall.  The Mall staff has been working very closely with Regal Cinema and says that the theater opening is an appropriate time to roll out the new name.  Special events are planned at the new complex for most of next week, including charity days when movie-goers will be able to see a movie for aone dollar.  But Goetzmann says that is only the beginning of what he sees as unending changes to accommodate the changing needs and wants of local shoppers.
Lansing Star
:  What prompted the new name?
Eric Goetzmann
: Regal really kicks this off, and it's the appropriate time to discuss it.  Pyramid Mall Ithaca has been here since 1976.  There have been a lot of people in the community who have been shopping here since then, and there is a number of people, too, who really haven't been here in a number of years, because they assume it's the same place.  The same stores, the same concept, the same philosophy.
The shopping center industry changes every year, and what worked ten years ago no longer works today.  You see that when you travel across the country.  You see these old shopping malls, or these strip centers that are vacant.  People who do not adapt to the changes that consumers are looking for go by the wayside. I think we've done a good job here, working with the Village (of Lansing) officials who want to see this center thrive for the people in the community, and we've made changes.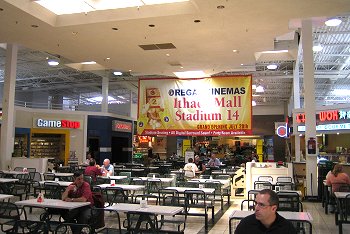 I think now is the time to incorporate those changes into the name.  It's a new philosophy here, it's a new center that we are trying to bring people into.  Our goal here is to create an opportunity for people in Ithaca, in the Village of Lansing, in the city to be able to shop in Tompkins County.  Our goal is to make sure people don't have to hop in their  cars and drive to the surrounding communities, whether it's 30 minutes or an hour away in order to buy what they want to buy.
In 2002 we replaced an old department store with three new 'big boxes.'  At that time people were shopping at Best Buys, at Borders, and at Dick's Sporting Goods.  We were able to do that, and we were able to keep people and dollars in Tompkins County.
LS
: At that time this was the biggest mall in a college town, and there was no bookstore in it.
EG
: Right.  We are looking for the kind of stores that consumers would like to have.  And people vote with their dollars.  Every dollar you spend here creates an additional type of retail we can bring here.  We're always looking for ideas.  Anybody who is looking for a type of retail -- I'd like them to contact Gena Spino and tell her what they would like.  We're open to bringing that type of retail here.
Then we went on and opened a Target store.  So we took the transformation of these bigger department stores.  Target was a major player and I think it satisfies the appetite for a lot of consumers in this market.  People therefore no longer had to leave Tompkins County to go elsewhere.
The city is running a parallel path, which is great.  When Walmart opened traditional thought was that they were going to share sales with Target.  It doesn't happen.  I'll bet if you talked to a Target store manager you'd find they are doing more in sales now than before Walmart opened.  
So it's not that you're splitting sales.  People were leaving.  You had leakage from the community where they were going elsewhere to shop.  Now it gives them the opportunity to come back here.
Now that we've brought bigger 'boxes' into the center, now we need entertainment.  I think Regal fills a huge void we had in the past.  People in this community have gone to Hoyt's Theater when it was Hoyt's... they've gone to Regal and they've seen movies.  But they've never had the experience they will have when this (stadium seating complex) opens up.
That brings us to where we are.  Today as the retail market and shopping center industry changes, very few new malls are being built.  What you are seeing is old malls, and things that are called 'lifestyle centers' where you have retail on the first floor, you have nice sidewalks and trees and benches.  They have businesses located above them, doctor's offices, and residential.  That's where a lot of things are going.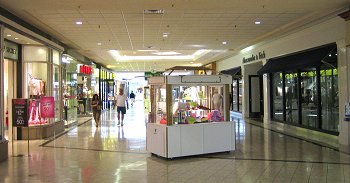 LS
: They talked a lot in the '60s about building places in the future where you would never have to go outside.
EG
: I think we are also now in a community where we have the environment and gas prices soaring.  It's making it more difficult for people with budgets to drive further and have available money to spend.  So if we can create the atmosphere here where you can park your car... We have it to a certain degree today.  People will park their car at Target, or in front of Borders or Best Buy, shop the entire center and walk back.
Now what we need to do as part of our name change and philosophy is ask what are the other types of retail we need here to make sure people can come up to the Village of Lansing, park their car, and hopefully find 80% to 90% of what they're looking for in Tompkins County?  That's our goal as a company.
Part of the name change is that it's not the same center.  So people who haven't been here in ten years -- come up and see us.
LS
: "The Shops at Ithaca Mall' has a strikingly different connotation than 'Pyramid Mall' or 'XYZ Mall.'  It brings to mind more of a walking plaza with shops of different kinds, rather than the stereotypical rubber-stamp mall shops.  Is that the feeling you want people to get as they come here?
EG
: The traditional name 'mall' is being replaced by a lot of different names, whether it's a 'town center' or 'Shops at...'  This center is known as 'Ithaca Mall' or 'Pyramid Mall.'  As we travel across the country trying to attract new tenants, it's important that they understand Ithaca.  They know it's Cornell and they realize what's here, so that has to be in the name.  We are still a mall.  We have everything a mall has.
'The Shops' really does lead to the next phase that we'd like to take the center to.  We have a huge opportunity in Ithaca, being one of the greenest communities in the country, to try to do something here.  Gina Speno has come from Fingerlakes Mall.  She was instrumental in bringing Bass Pro Shop to the center and everything else she has done up there.  She joined us less than a year ago and has started instituting the green concept here, from our staffing to our cleaning products.  Minor things, but all these things add up.
What I would like to do is take the next step.  We have this old area where the old Regal Theater is.  Could we do something here that really lends itself to the green concept?  
| | | |
| --- | --- | --- |
| | | |
| | "In the summertime the temperature on the roof of some of our buildings can go from 55 degrees to 150 degrees in one day.  If you could take a roof like that and plant it  you could get that down to -- maybe -- a 30 degree variance.  That is huge for us, because look at the energy it takes to air condition that building below." | |
| | | |
We have talked to people in the local community, Margurite Wells and Lexie Hayne from Mother Plants, Ltd.  They're an organization where you can take a roof and plant it.  You can take a building and really make it green.  We're talking about bringing in some tenants and making it a competition.  In the summertime the temperature on the roof of some of our buildings can go from 55 degrees to 150 degrees in one day.  If you could take a roof like that and plant it  you could get that down to -- maybe -- a 30 degree variance.  That is huge for us, because look at the energy it takes to air condition that building below -- or you could heat it in the winter time.
We are looking to see if we can do things of that nature now.  Unfortunately the load capacities of the structure we have here cannot handle it and snow.  The only way you really can do it is if you have new construction.  So we may have an opportunity here as the industries change.  Because consumers are looking for an area to walk through with benches and trees and plants and sidewalks, more of an outside atmosphere.  Is there a possibility to do that here?  I think we do.
That's really the next step and that's really what the industry is going towards.  Retrofitting an old center or building new centers to incorporate this type of retail.
LS
: Are you looking for more anchor stores, or smaller shops?  And what about restaurants where you can sit down for a meal and a glass of wine?
EG
: We're always looking for what the consumers are looking for.  It's really the consumers who drive the type of retail we have here.  The more we can keep people in this community, the stronger our stores become, the stronger their sales become, and they are more interested in expanding further.
There are smaller stores now that cater to the male.  It's no longer just the big department stores that can handle that.  We have big anchors, but going forward we are looking for some of the specialty retailers that we are missing here.  As you have seen the progression over the past few years, it started with bigger stores.  The 126,000 square foot Target, the Borders and the Best Buy and the Dick's at 30,000 square feet to Regal's stadium seating theater.
LS
: An that's what... about 65,000 square feet?
EG
: Just under 63,000.  
Now that they see that we're giving people the opportunity to stay here, and stay longer, they're going to spend more money in Tompkins County.  The entertainment side lends itself to restaurants taking a closer look.  Because people are going to be here and they are going to want to have a meal.
LS
: That's a different experience, a sit down restaurant, as oppose to the food court.
LS
: It is important to have choices.  If people come here five nights a week because they are avid movie-goers they're not going to want to eat at the same place every night.  People realize that if you have a choice it's easier to say that you're going to meet at The Shops at Ithaca Mall and then decide what we're going to eat.
It's interesting, because people have done this everywhere.  Phil Romano opened a Rosalie's Restaurant not to far from here, in Skaneateles, a little tiny community.  A lot of people go there.  Then he opened a Johnny Angel's.  Now you go to Skaneateles and there are restaurants everywhere.  It's a small community, but people have choices.  If one place is crowded they can go to another place, or they can have a different kind of food every night.
Skaneateles is much smaller than we are today, so I think our options are endless as to what we can offer people here.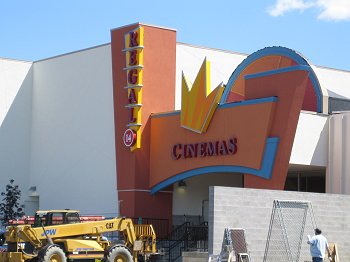 LS:
The larger malls are trying to become a 'destination.'  You hear about 48 hour junkets of Londoners flying to the Mall of America.  Is that in this mall's future?
EG
: I think we're a destination today.  Hopefully when people want to go shopping in this community their destination is here.  Our goal is not to be a Mall of America -- the biggest, the latest, the greatest.
Our goal is to satisfy the consumers that are here in Ithaca.  If we can get 95% of the people what they are looking for here in Ithaca, we've achieved our goal.  So that's really going to drive the function of what we are.  As long as we can adapt to the new products that are coming out, as long as consumers are shopping here at this center, we will continue to modify this.  I think we've proven over the years that we do that.  And we will moving forward.
LS
: How big is the old Regal space and what's planned for it?
EG
: Our old configuration is about 34,000 feet.  It's difficult to find a tenant who is going to go into 34,000 feet.  But what is more important is that we're not interested in leasing vacancy.  Our goal is not to lease a vacant space.  Our goal is to bring in the appropriate tenants that will create a synergy with the other tenants that we have.
LS
: You're talking about creating a space rather than filling one.
| | | |
| --- | --- | --- |
| | | |
| | "People vote with their dollars.  Every dollar you spend here creates an additional type of retail we can bring here.  We're always looking for ideas." | |
| | | |
EG
: You've seen it in the past.  Montgomery Wards was a large department store.  90,000 square feet -- we knocked most of it down.  The old Hills we had where the new theater is -- we knocked that down.  Financially it doesn't make a lot of sense, but it's the right thing for the center to bring the right tenants.
So if you can tell me the right 34,000 square feet tenant that everybody in Ithaca's looking for, that is the right thing, we'll put it in that box.  (laughs)  But when you're here a year from now, we'll have a new tenant mix.
LS
: A former mall employee mentioned last year that one possibility is to take that space and make themed areas like one where men would like to shop, another where women would like to shop, that sort of thing.
EG
: We spent a lot of time on that and we've made a lot of headway.  Right now it would be premature to share anything.  With the theater kicking this off it's another step that brings the center closer to being a destination location.  Our next step will be to take a look at that box where the old Regal theater is, and figure out what we can do to attract other types of tenants that people would like.
That's why we love input from people in Ithaca.  What type of tenants are people leaving Tompkins County to shop for?
LS
: You have a lot of new people on staff now.
EG
: The goal here is how do we take where we are today and end up where we'd like to be?  When you have a challenge like that you ask yourself how do we get to where we want to be?  You bring in somebody to be in charge.  Gina is responsible for taking us to the next step.  She is going to be held responsible, and she's going to need people she has the confidence in that can get the job done for her.
Gina Speno
:  We were brain storming yesterday to come up with a slogan to go with our new logo.  What they came up with fits what Eric has been talking about.  It's the same place.  It's a new name.  But it's a different philosophy.
The name is changing and the philosophy is entirely different.
LS
: In a nutshell, what is that?
GS
: It covers everything -- marketing leasing, management.  It's a different philosophy of seeing things in a different light, and knowing that every so often you need to do that in the shopping center industry.  (The new philosophy includes) the green aspect, looking at the right tenant mix, and making sure that we have the right shops here for people in our community.  Adding entertainment, looking at restaurant uses, making sure that we're really reaching the marketing that we need to do, making things comfortable and easy for people when they get here.
It involves every single thing that we do.
EG
: The center has gone through some major changes.
LS
: It actually has a whole different look from the last incarnation -- Montgomery Ward had more of an old store feel to it.
EG
: We're just asking people to come down, stop by, come see us.  I think you'll find that you'll be very surprised.
GS
: And it's a process in the works.
----
v3i26