By

Dan Veaner

Business Profiles

Print

One way to get away from your worries and stress is to do something completely different.  Something that is creative, but with no pressure.  Where the process can be more important than the product, and where you may find talents hidden within yourself that you didn't know were there.  That is the idea behind
FLOOF Collage pARTy!
art-making studio.
"It's funny because people either come here knowing what they want to make or having no idea what they want to make, but thinking it's a cool idea and they just want to play," says owner Corinne Stern.  "We can go either direction.  It's called 'FLOOF Collage pARTy!' because Im hoping that people will feel comfortable combining a lot of materials. So I've got lots of different kinds of glues and paste and a hot glue gun, so that even if they start out with a work on paper they can add lots of other floofy stuff to it."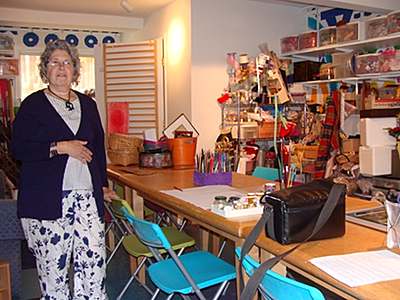 The studio walls are stacked with art supplies, some that you would expect, others surprising.  That fosters the sense of discovery that Stern weaves into the experience.  The studio is open to small parties of ten or fewer, for events, parties, or private sessions for one person or a few.
"It's for kids from 2 to 102," she says.  "It's like kindergarten for grownups.  I just want people to be able to relax and enjoy some snacks and just play with these materials and see what they come up with."
She also sells art materials by the quarter pound so people can finish their pieces at home, or start new ones.  One recent client hollowed out a book, then built a sculpture inside, then brought it home for her children to finish.  Some people come knowing they want to make a present for someone, or something to hang on their wall.  Others just want to see where the process of making something will lead them.
Stern opened the shop a year ago last December, but illness in her family took her attention away from the business.  Now she is holding a grand opening on November 18th, through 20th.  The first 25 customers during the opening promotion get a free bag of materials worth $5.00. 
"A lot of people say, 'Oh I'm not artistic.  I don't have any talent.  I can't draw, I can't paint'," says Stern.  "My goal is to help people find a way to express themselves through art.  I have just about every material you could imagine here from hardware to papers to boxes and pieces that you could use to make a mobile.  So far everyone who has come in here has found a way to make something that they're happy with."
She was interested in art as a kid and wanted to study it in college, but her parents dissuaded her.  Instead she became a teacher of deaf children, working with preschool children, incorporating art in her teaching.  For a time she was a leather crafter, then in 1987 she became a nurse.  But after her late husband passed away she wanted a change. 
"I decided I was in my 50s and it was time to do my art," she says.  "I started making these hats.  I started making yarmulkes for women."
Currently she is making cloth cloche hats that she was going to call chemo cloches to honor relatives who were fighting cancer.  She is also a photographer and an artist's model.  In January her photographs will be on display at McCune & Murphy Physical Therapy.  She was a member of an artist's collective in Ithaca for years, and has sold art work online.  The studio is a way she has combined all her interests into one place.
"I've been a textile artist for the last ten years, and I've been making hats," she says.  "I come in both directions as far as I construct my art myself.  Either I'm inspired by the materials, or I have a preconceived idea and I choose the appropriate materials.  That's what I'm hoping people will feel free to do.  Sometimes people just say 'My favorite color is blue.  You have this great bin of blue stuff.  I want to make something blue."
Although it is still a young business Stern already has plans to expand its reach.
"Even when I was a nurse I was into the educational and psycho-social aspect of nursing," she says.  "With this shop I can help people with emotional issues, because I really believe that art is great for healing.  I am hoping to get clients from the prison release programs, halfway houses, drug and alcohol rehab and recovery, people with all kinds of disabilities.  I built the shop to be ADA accessible.  I also built a deck with a ramp so when the weather is nice we can go outside to make art, because the woods back there is a very inspiring place to get ideas."
She also plans to offer more focussed, special sessions with guest artists who specialize in particular media or styles.  She plans to join the Chamber of Commerce and the Art Trail to make the business more available to a wider variety of people.  She says she hopes to attract business clients as well, who will use the studio for art-themed team building exercises.
"I hope that people will see it as a destination and a place where they can come to relax or celebrate a birthday or baby shower or a bridal shower or even a sorority or fraternity party," she says.
v7i44