The Federal House
has graced Ludlowville since 1815.  For much of the time it has been a private home, but in recent years it has been a popular Bed & Breakfast. The house was sold last fall, and at the end of this month it is reopening under the proprietorship of Donna and Mike Wilson.
"The house has great bones and we both got a greet feel from it," Donna says.  "Mike said to me one day, 'You've always wanted to run a Bed & Breakfast, right?'  It seemed like the right thing.  I think Ithaca is the kind of place where people just go for it.  They experiment with their talents, so I figured I would try it."
Originally from Los Angeles, the Wilsons come to Lansing from Boston, where they have lived, worked, and raised their family for the past 25 years.  Mike is an orthopedic surgeon who worked at the Brigham and Women's Hospital in Boston where he was an Associate Professor, ran fellowship, taught residents, and was Chief of Orthopedics at the Faulkner Hospital.  When the couple met at Children's Hospital in Los Angeles Donna was a registered nurse.  After moving to Boston and raising their children she worked for a non-profit community outreach program for low-income elders.
Two years ago the couple began thinking about a change.  The were looking for a place to live and work that would take them out of their high pressure environment in Boston.  While visiting their son at college in Hamilton, New York, they also made time to visit the Finger Lakes when they visited because of a love of love of wine and wineries.  They came to love the area, so when the Federal House went up for sale the timing seemed perfect.
"We like Boston, but we were ready for a change," Donna says.  "The Finger Lakes are really beautiful. The people are nice and welcoming.  Our interest in wine was certainly a big piece of that.  The Bed & Breakfast is another piece."
The Wilsons originally planned to move in October, but things didn't go exactly according to plan.  Major renovations have been going on all winter.  Mike moved into one of the upstairs rooms at the first of the year when he joined Cayuga Medical Associates.  Donna has been going back and forth, preparing their old house for sale and for the move.  She moved to Ludlowville permanently a few weeks ago.
Since they bought the house in August the Federal-style home has been painted and redecorated.  The downstairs floors were sanded and are now light in color, making the rooms seem bigger.  French doors were installed leading out to the porch from the dining room, and they plan to enlarge the porch by another ten feet.  Spotlights for art were installed over the mantles.  Plumbing and wiring has been updated and hundreds of yards of insulation blown into the walls.
The house came furnished, but the Wilsons are mixing it up a bit, using about a third of the furniture that came with the house, buying some new pieces, and filling in with furniture from their Boston home.

At first three rooms will be available.  The Wilsons are living in a fourth upstairs room while working on a downstairs space they will move into.  When that is completed the four upstairs rooms will be available for visitors.  A talented baker, Donna is looking forward to offering scones, muffins, French toast, breakfast burritos, frittatas, fresh fruit, Belgian waffles, and home made granola for breakfast.
Along with the hospitality and breakfast the Federal House offers visitors a piece of local history.  When the house was built in 1815 what is now a sleepy hamlet was a bustling village with active mills, three churches, general stores, smiths, and craftsmen.  Abraham Lincoln's Secretary of State William Seward visited while courting the niece of the original builder, Abijah Miller.  Two of the guest rooms are named for Abajah and his niece, one for Seward, and one for Lincoln.  Hand carvings that are said to have been crafted by Mormon leader Brigham Young grace the home.  It is known as the 'Six Doctor House' although by the Wilsons' count Mike is the ninth doctor to live there.
And then there's the ghost.
Over the years there have been sightings of the 'lady in the blue dress'.  The former owner claims to be among those who have seen her.  The Wilsons are skeptical, but acknowledge that there are strange noises in the house.
"I have not seen the ghost, although some of the workers claimed there were some crazy sounds," Donna says.  "The other day I was in the laundry room and the door was closed -- it blew open and then blew shut again.  It wasn't windy.  I'm not a believer in those things, but it kind of freaked me out."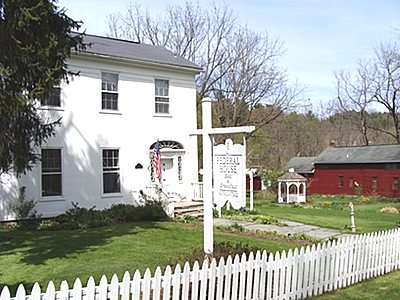 The Wilsons plan to ease into the Bed & Breakfast business slowly.  They have met with local B&B associations, and have joined the Tompkins County Chamber of Commerce.  To begin with they will offer the three guest rooms.  The home will not be available for weddings and other like events at first, though they don't rule that out for the future.  Avid B&B visitors themselves, they are looking forward to hosting their own first guests who will be arriving for the upcoming Cornell graduation.
"People in Boston were saying, 'What are you doing getting a Bed & Breakfast?  You have to get up in the morning, you have to have people in your house...'," Mike says.  "We're at a point where we are open to new experiences.  Donna and I were looking for a place to live.  It was a bit of an impulse to purchase a Bed & Breakfast.  Donna got excited about the idea when she started thinking about it.  I'd say 90% of the people who frequent Bed & breakfasts in this area are really good people."
v8i19