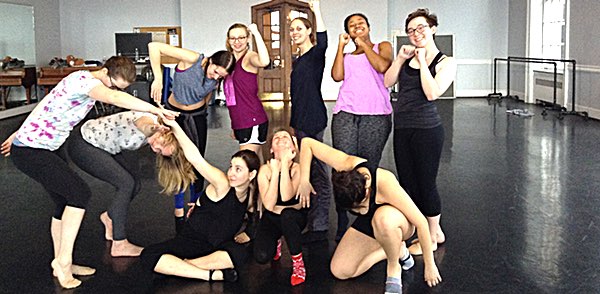 Aurora, New York—This year's annual Wells College Faculty Dance Concert, titled "E/Merging," takes place Friday, April 7, and Saturday, April 8, at 7:30 p.m. in Phipps Auditorium of Macmillan Hall. The concert welcomes new Wells dance faculty Heather Acomb and features her work as well as the work of two guest artists, Eran Hanlon (Rochester) and Jenny Showalter (Chicago). Tickets are free and available to the public.
Acomb is a Rochester, N.Y., based dance artist and educator and former full-time member of the Bill Evans Dance Company. She has performed widely across the United States and taught in several prestigious dance departments locally and nationally. Acomb is thrilled to be joining the Wells faculty and eager to share her work in the "E/Merging" concert. "This concert is full of such passionate and athletic dancing," says Acomb, "and each piece will leave you with a different feeling. It's a very texturally rich concert."
Guest artist Eran Hanlon, also from Rochester, N.Y., is the artistic director of the dance theatre troupe Hanlon Dance & Company. His company is fiscally sponsored by New York Live Arts, Inc. Guest artist Jenny Showalter is based in Chicago and is co-artistic director of Treeline Dance Works, a performance co-op with multiple collaborators in Chicago and New York City.
The performance will feature 15 Wells College dance students, including six graduating seniors and one visiting international student from Japan. The production team, headed by Wells Technical Director Patti Goebel, also features behind-the-scenes work of several students, including stage management by Sabrina Fowler '18.
A reception will follow Friday evening's performance.
v13i13