By

-Staff

Entertainment

Print
They say it's impossible to herd cats. If that's true audiences next week will witness a miracle when 47 Lansing High School students perform the Andrew Lloyd Weber musical 'Cats, based on T.S. Elliot's 'Old Possum's Book of Practical Cats.' The show features many show-stopper songs and a lot of dancing.
"It's very Webberish," says director Cindy Howell. "It's a definite style of music, but it's also very exciting. Every number has its own special thing. That was one of the reasons I picked 'Cats.' We have 47 kids, 20 of which in any other school would be their lead. We have a lot of really talented kids in this show, and 'Cats' has a lot of different 'lead' numbers, so there are a lot of different things that kids were able to create."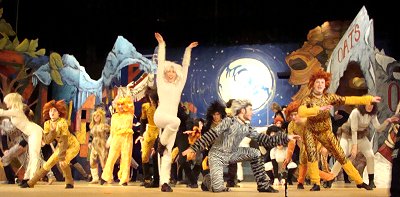 Howell says the show has presented different kinds of challenges from those she has directed in the past. One is the number of individual characters who have songs. With such a large cast that stretches her time as director as well as that of musical director Lorrene Adams, who also must conduct a 22 piece pit orchestra. In 2007 Howell's production of '42nd Street' had 42 student actors.













Cindy Howell (lower left) and Lorrene Adams (lower right)

"This is probably the most difficult as far as the kids needing to be able to create their own character and their own individual identity of a cat," she says. "It's very difficult with 47 kids to teach each one of them individually how they should act every second of this two and a half hour show. So a lot of it is left up to them. I think when people come to see it that it's really turned. We went from two or three kids obviously understanding what was going on to only two or three kids who still don't."
As with all Howell musicals, dance is an important element of the production. Students started working on the dancing last summer. Once rehearsals started in earnest in January, a new choreographer, Todd Peterson, was brought in. Peterson performed in cats in 1981 and 1982.
"He has done really great stuff with them," Howell says. "They work with each other to make sure that everybody is a cat on stage, every moment. What we have right now is really, really good. The kids have done some of the choreography themselves because there is just so much that has to happen."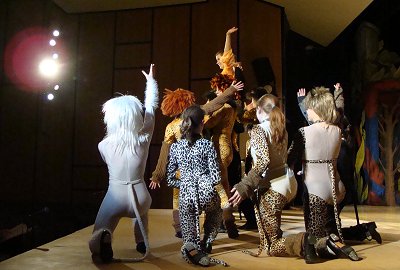 Lee Iannone designed the set, a giant junk yard in vibrant colors where the cats congregate.
Performances are March 10 and 11 at 6:30pm and March 12 and 13 at 7:30. Wednesday night only senior citizens can come for half price.
---
Reporting and Photos by Karen Veaner

----
v6i9