The Lansing Board of Education got a look in the crystal ball Monday to see what projects are planned in the district's future. While the septic project is being closed out and the SMART Project picking up steam, Business Administrator Mary June King told the School Board about additional projects anticipated as far out as 2027. While necessary infrastructure upgrades and repairs are slated for the near future, additions to instructional space and outdoor athletics facilities are being contemplated.
"We are working diligently on preparing a significantly planned 2018 project based on the building conditions survey that was just conducted," she said. "We started at about nine or ten million for all of the costs, and we've been trying to wheedle it down a little bit. There are some things that they cite in our building conditions survey that we can put into our preventative maintenance program. We don't get the state aid on those things, but they are small."
King said the plan will be presented to the administrative and facilities committee on August 22, and hope to ask the school board's approval in late September before it goes to the public for a vote.
"We are doing everything we can do to do this at no additional cost to the public," King said. "We have some debt falling off, and some capital reserve dollars. The big thing is to make sure that everything we do is appropriately aidable so we don't get caught short once things start rolling."
She said the plan will include up to $1 million of program space, particularly in the high school science department. Other things being considered for the project are a digital art space, large group instruction space, and creative use of existing atria.
The school district has tried to gain approval for relatively small capital projects every couple of years, after a $40 million project went down in flames in 2005. King says that a major septic replacement project is due to be closed out some time in September, and the 'aid flow' for that project will start this year, which is in keeping with bonding planning for the project.
Meanwhile asbestos removal is complete, which paves the way for construction work that includes major improvements in nearly all the district buildings, including the Middle School Auditorium lobby that will keep the auditorium closed until January. Superintendent Chris Pettograsso said the district is in negotiations with the Hangar Theater for alternative performance space.
"It is all part of the construction costs," she said. "The music and dram people have been really great, coming together and being positive. It is really exciting to see how much space is being created in the main office of the Middle School and the auditorium lobby."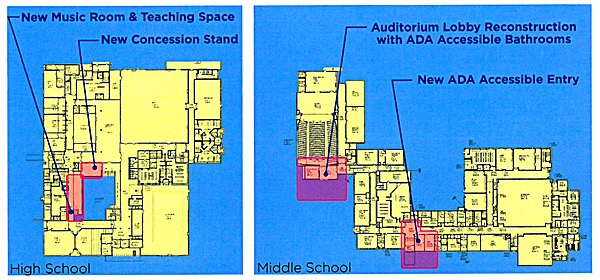 New music practice rooms are being located on the south side of the high school atrium, and a school store is being constructed on the cafeteria side of the atrium,, that can double as a concessions stand for the Sports Boosters. The pool is expected to be reopened around the middle or end of September.
For the future, King said school officials are already looking at a 2020-21 that will concentrate on athletic facilities.
"We're looking hard into facilities related to the athletic program, particularly outside facilities," she said. "We know that there has been a lot of discussion about what might happen with the football field. Also, the track is at the end of its useful life. We gave it patchwork repairs in the 2013 project. We might be able to extend it another couple of years, but we need to replace the track, and we need to replace the tennis courts. So we're looking at a big picture long term planning for athletic facilities."
That led to a discussion about analysing the pros and cons of turf fields. Board member Julie Boles expressed concern about carcinogens that may be present in turf, and board member Glenn Swanson said that is one of the topics that needs further analysis.
"A lot of schools that we're comparing to have Lacrosse and field hocky, which are often turf-related," said Superintendant Chris Pettograsso. "So we're going to look at where we want to go with our athletic program."
King said that paying for that project will present particular challenges for a district that has been successful at completing capital projects at no additional cost to taxpayers by gradually building up capital reserves and only adding new debt as old debt falls off.
"We'll involve the community a lot as we move forward on those types of questions," King said. "I've also been talking to the president of the Sports Boosters about the possibility of some community fundraising from them to try to offset the local share, because we do not have more significant debt falling off until 2027. So it's going to take a better capital reserve or additional tax dollars, or, perhaps, some input from alumni and those folks who use those facilities."
She added that the district is looking at another project beyond 2020. She said that taking care of the infrastructure problems in the upcoming project will allow the district to focus on program space and athletic facilities.
Board Chairwoman Christine Iacobucci said the district should tie whatever it spends money on to the district's mission and strategic plan.
"We are looking at a long term plan relative to a 2023 or 2024 project," she said, "but in this 2018 plan we're hoping to nail a lot of the infrastructure and grab a little bit of program stuff to roll everything forward."
v12i31