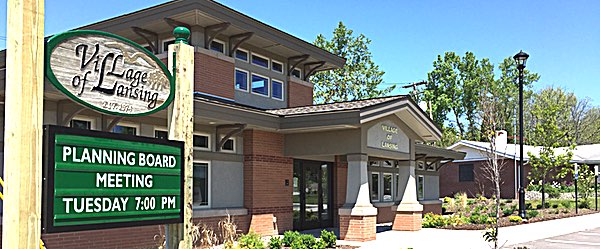 In a preliminary look at the Village of Lansing budget for the next fiscal year, Trustees overrode the tax cap in preparation for an estimated rise in its tax rate by 20 cents per thousand dollars of assessed property value. Mayor Donald Hartill told Village Trustees that major capital projects have spent down reserves to what will be unsustainable levels if an upward adjustment in property taxes is not implemented.
"We're spending down our capital reserve funds at a rate that is not sustainable over the long haul," Hartill said. "As a result I am proposing to increase the tax rate from $1.10 to $1.30 to partially offset that. In fairness, we've had several big projects in the last couple of years -- a new garage, the Village Hall, redoing Triphammer Road... this past year we made a fair amount of progress on Northwood Road... Bush Lane... several big projects."
Hartill said that other revenue sources such as sales and gross utilities taxes have flattened, and franchise fees have also remained stable. But with upcoming expenditures on improvements to Nothwood Road, a new park in the Northwood neighborhood, a sidewalk on Uptown Road, and equipment replacement costs, Hartill said Village reserves will be depleted even more than they have been.
"We're taking about $600,000 out of the capital reserve fund," he said. "That's not sustainable, so we're going to have to somehow spread out our projects to try to address that. I don't see raising the tax rate much more. We may have some increase in our assessment, but this year our assessment went down slightly."
For the owner of a $200,000 house the tax rise will mean an additional $40 for Village taxes if Hartill's initial estimates hold in final budget. On top of that Village officials expect the Village surcharge on water service will also rise from $1.11 per thousand gallons of water to $1.77 per quarter, adding $26.40 to Villagers' annual water expense for minimum water users.
While capital and water reserves need replenishing, Hartill noted that the sewer reserve has reached levels to which it has become necessary to plan ways to spend it. He outlined a two piece plan that will mean better sewer handling south of Route 13 plus a study to determine how best to expand the sewer district in the Village. The existing sewer fix would require a partnership with the Village of Cayuga heights to bypass an issue on the Lansing side by hooking into the Cayuga Heights sewer at a new location, bypassing the current problem area. The engineering study would determine how best to approach expanding unsewered areas of the Village.
"As part of that package would also be a change in the minimum lot size for the newly sewered areas," Hartill explained. "It would remain the same for the current sewer districts, but the newly sewered areas would change the minimum lot size from 30,000 square feet to 45,000 square feet, which is half way between the 30,000 and 60,000 for the unsewered district."
Trustee Ronny Hardaway said that unexpected expenditures on a Village park would mean budgeting $175,000 for parks, $25,000 more than originally expected. Replacing a dangerous child play structure in the Village Park on Uptown Road meant holding back on a portion of a plan for a new park near Northwood Road. Superintendent of Public Works John Courtney said that a parking area for the park and a barrier between the parking area and the park itself would most likely have to be postponed until the next building season.
"Looking at the future, I don't expect to see those big projects recurring any time soon," Hartill said. "But we have to be in a stable long term pattern, so increasing the tax rate is part of that. We stabilize that, and then we have to come to grips with the expenditure side also."
The Trustees are expected to begin a line by line analysis of the proposed budget at its March 20th meeting.
v13i11