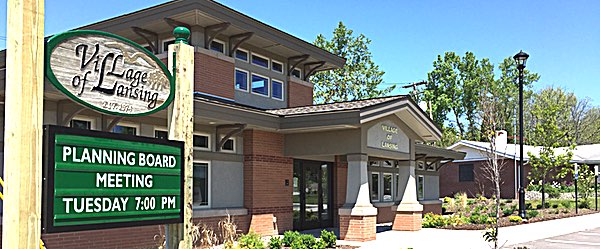 Friday, April 14, 2017 is the last day for a new voter to postmark a registration form to be eligible to vote in the April 25, 2017 Lansing Village Election.
This year Village voters will chose a mayor and two trustees. Incumbent Mayor Donald Hartill (Community Party) is being challenged by Lisa Bonniwell (Preservation Party). Trustees Pat O'Rourke (Community Party) and Ronny Hardaway (Community Party) are being challenged by Gregory Eells (Preservation Party) and John LaVine (Preservation Party).
The Lansing Star will publish candidate interviews in the issues before the April 25th election. The Star asks candidates the same questions, allowing readers to compare candidate's answers while making their choice.
Sample Ballots are now available and can be viewed at
www.votetompkins.com
. Absentee ballots are now available and the absentee application can be printed from the web site, or you can stop by the Board of Elections office to apply in person.
Poll sites will be open April 25 from 12 noon to 9 p.m.
The Board of Elections is located at 128 E. Buffalo Street; open M-F 8:30 a.m. – 5:00 p.m.
v13i13
velections2017