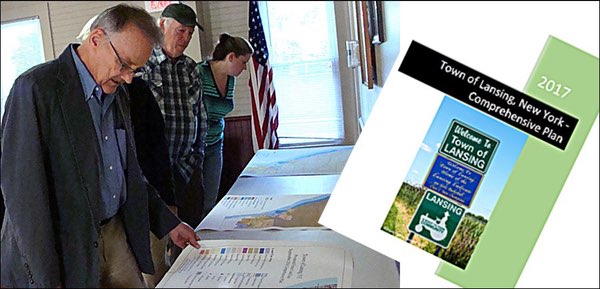 Town Supervisor Ed LaVigne will ask the Lansing Town Board next Wednesday to cancel a December 20th public hearing on the latest revision of the Town's Comprehensive Plan. LaVigne says the public will have ample opportunity to express concerns about the current draft of the revision, which has been crafted over the past seven years, before a new public hearing is scheduled and the Town Board is called upon to vote to accept it. There is no guarantee that the public hearing will be cancelled, but the Board will discuss it Wednesday.
"We'll listen to everybody's concerns," LaVigne said in a phone interview Tuesday. "It won't be a debate. It will be 'What are you concerned about?' We'll let the Town Board take a step back and think about it. Some time in the Spring or Summer, if the Board decides, we will move forward and set another public hearing."
The timing of the public hearing has caused a political rift in Lansing that LaVigne hopes to heal by postponing action on the draft plan revision. One camp has argued that during the seven years during which the plan has been revised every meeting has been open to the public, and there have already been three official public hearings at which concerns were expressed. But Town officials and Planning Board members have observed that there was very little public attendance at any of their committee or board meetings, and planning board members said last month that the one or two people who did attend did not participate. Town officials have also stressed that a comprehensive plan differs from municipal laws and ordinances in that it is a guide for developing those laws that will then shape the town. But they note there is no obligation to even follow the guide.
At last month's Town Board meeting Councilwoman Katrina Binkewicz, noting that many people who want to weigh in on the final draft would be traveling or busy with the holidays at the scheduled December 20th time. She urged the Board to postpone a public hearing at least until January, and then to take the time to thoughtfully consider comments from the public.
"Setting a public hearing the week before Christmas is not embracing people's ability to get there," she said at the November 15th board meeting. "As a board we have not had a chance to talk about details that were brought up in the public hearing. It's incumbent on us to have a working meeting to talk about it. It could be in December, but I would prefer to wait until January. I just think it's a bit hurried, because it's just now reached our table and there are things to discuss."
The Board voted 3-2 to go ahead and schedule the public hearing for the 20th. Since that time a contingent of residents have expressed dissatisfaction with what they say is rushing the plan to acceptance without regard for public sentiment.
"The process of drafting a new Comprehensive Plan for Lansing has dragged on for much longer than anyone on the involved committees wanted it to," says Councilman-elect Joe Wetmore. "It is also important for our community to feel like our voices have been heard in the process. Many Lansing residents feel that it is important that the Lansing Town Board facilitate a full public overview of the plan, as well as community discussion--with ample time for Q&A--about the content of the proposed Comprehensive Plan. An extra 3-4 months to make the public feel its concerns are being addressed is worth the extra time before the plan is officially adopted."
Since the November meeting resident Melanie Malone started
a petition on change.org
demanding LaVigne postpone the public hearing until after the holiday season.
"Two Town Board members voted to extend the date of a public hearing until the Comprehensive Plan could be reviewed thoroughly and all public questions could be answered," Malone writes. "Despite this rationale, in a three to two vote, a December 20, 2017 pubic hearing date was scheduled. While the general process of updating the plan has been discussed, there's been nearly no public dialogue on the actual content of the plan. Sixty-four pages of public comments were officially acknowledged by the Planning Board. But most of the questions contained in them were not adequately addressed."
Within a few days it had garnered 116 signatories. According to comments left on the petition, not all signers were Lansing residents, but the sentiment was shared that passing the plan should not be rushed.
"It seems like people get worked up about nothing," LaVigne says. "Reading that petition, I think they overreached what they thought the ramifications would be. I think it was an over reaction. I am willing to take a step back, and take this to the Board to cancel (the December 20th public hearing). We will have public meetings where they can sit there and air their concerns."
A municipal comprehensive plan is supposed to be updated each decade or so as a guide that reflects a community's wishes for future development, quality of life, and the character of the area that residents want to maintain or strive toward. LaVigne says that he has scheduled a special town board meeting for next Wednesday for the express purpose of cancelling the public hearing.
"I want to make sure everybody has an opportunity to publicly voice any concerns they have," he said Tuesday. "We will hold special meetings to do that. I will be there, and hopefully the planner will be there. It's optional for the other board members, but I want to hear every one of their concerns publicly."
While some Lansing people have urged holding off on planning decisions until the revision has been officially accepted, LaVigne says development in the Town is going strong. Each month Town Planner Michael Long reports on a string of developments that are in various planning stages including the 72 unit Milton Meadows project, 140 rental townhouse Cayuga Orchards, the Lansing Cottage Community planned by Tiny Timbers, a new Cayuga Salt Mine shaft, a new cell tower near the Lansing Post office, and another cell tower for use by NYSEG.
"We're going quickly," LaVigne says. "We're going to have an announcement on the 20th of another piece of property sold, if the Board decides on it. So we're moving quite fast on (development). I don't think this has anything to do with (the unfinished comprehensive plan revision). Once again it's a guide. There is no real sense of urgency on this. I also want to defuse the whole thing about this town, because they seem to be ramped up about everything."
The special meeting to cancel the December 20th public hearing is scheduled for December 13th at 6:30pm in the Lansing Town Hall.
v13i47