May 13th was an unlucky Mother's Day for a house that was severely damaged Sunday in Lansing. The Lansing and Cayuga Heights Fire Department were dispatched to the house, still under construction, on Sperry Lane at 7:28am. Tompkins County Sheriff's deputies were also dispatched to the scene. Route 34B was closed between Lansing Station and Lansingville Roads for about four hours as firefighters battled the conflagration. 25 Lansing firefighters were eventually joined by 40 more from more fire departments, responding to a call for tankers when it was found that a broken water main reduced pressure to hydrants, hindering responders' ability to suppress the fire.
"During our initial attack we experienced low water pressure from the hydrants so we had inadequate water supply," says Lansing Fire Chief Scott Purcell. "We later learned that there was a water main break down by the school which was the result of the low water pressure. We called for tankers to shuttle water to the fire. The departments with tankers that came and helped were, Freeville, McLean, Groton, Genoa, King Ferry, Aurora, and Poplar Ridge."
One firefighter was sent to Cayuga Medical Center for a face injury, but Purcell reports he has since returned to duty.
Because the home was under construction firefighters could not know how much of the interior had been completed, making it unsafe for responders to go inside the structure.
"We were unable to know exactly what was completed inside, upon arrival we had heavy smoke and fire so we were unable to do an interior attack and had the fight the fire from the outside," Purcell says.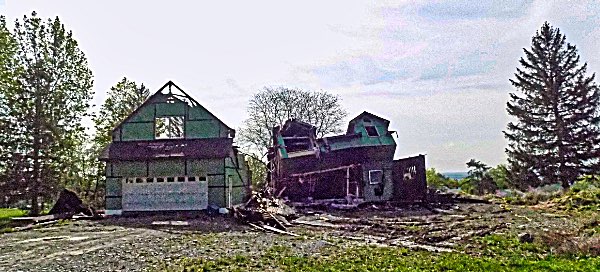 Fire officials say the fire started in the basement, then quickly traveled through the rest of the house, which was mostly unfinished, open stud walls. That enabled the fire to travel quickly, and the building collapsed quickly. heavy equipment was brought in to pull some of the sides of the house and the roof out of the way to complete extinguishing the fire.
The Cayuga Heights Fire Department ended up spending more than six and a half hours at the scene. Lansing firefighters were on the scene for over eight hours.
The New York State Office of Fire Prevention and Control investigated the fire, but so far have not determined the cause of the fire.
v14i19