By

Dan Veaner

News

Print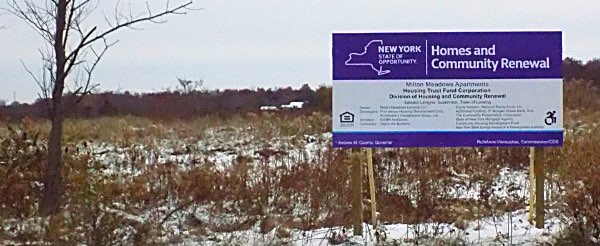 Cornerstone group of Rochester closed on 13.5 acres of Lansing town land October 31st, paving the way for their Milton Meadows Apartments project. the project will be partially subsidized with preference given to veterans. the developers paid the Town of Lansing $337,500 for the land, which will be the site of Phase 1 of the project that could expand to 22 acres total if a second phase is realized later. Lansing Supervisor Ed LaVigne said the Town is getting the word out to people who may be eligible for the subsidized apartments in the complex.
"Now comes the part to get the word out that people will have a number to call," he said Wednesday. "Veterans will have the first consideration, but anyone that qualifies will be considered. We're posting it now to get the word out."
The first piece of the project is to build what will become a public road from Auburn Road across from the outlet of Woodsedge Road. Work on the road is expected to begin shortly. It will be a stone road until Spring of 2019, when paving will be completed. Work on private roads within the development will be done in December through spring, depending on weather. The developers hope to complete the top coat on the access road by the end of September 2019.
The project is expected to be constructed in two phases. The first phase (lower left portion of the map at right) will include 9 apartment buildings containing 72 multi-family (one, two, and three bedroom apartments) plus a 3,100 square foot community center on about 13.5 acres. The community center will have an office for the property management staff, a community room, storage, a fitness area, computer rooms, and laundry areas. This phase also includes a playground and community gardens, a package wastewater treatment plant north of the Phase One buildings between two proposed stormwater ponds, and stormwater management areas.
The new road, about 600 feet long, will connect to Auburn Road (State Route 34B), creating a four-way intersection with Woodsedge Drive. Of the 72 units, eight are expected to rent at market rate, with the remaining units going for about $700 to $750 for one bedroom units, $835 to $850 for two bedroom apartments, and about $950 to $1,100 for three bedrooms. Market rate units might rent for as high as $1,400 for a three bedroom apartment.
v14i44