You might think that the northern portion of Lansing is the perfect place for a wedding. The rural, pastoral scenery. The clean air. No close neighbors that would be bothered by the noise. But that's not what an impassioned group of neighbors had to say Monday at a Lansing Planning Board hearing to hear public comment on OSMICA, a proposed wedding venue and bed & breakfast on Emmons Road. They worried about noise, traffic, and the disruption of the pastoral lifestyle they chose when they decided to live in the agricultural district in northern Lansing.
"This exploitation of our properties and our surrounding natural settings puts at risk the peaceful enjoyment of our front and back yards, the safety of our quiet country road, and jeopardizes the surrounding habitat that supports both our wild and domestic animal life," charged next door neighbor Trish Van Every.
The project, which Town Planning Consultant Michael Long noted is within the scope of allowed uses in RA (Rural Agricultural) zoning has been proposed by Kurt Martin, proposes to convert existing buildings on a 19.1 acre lot into a wedding venue by converting an existing house and carriage house into a Bed & Breakfast, and a barn into an events venue. The most significant change to the outside of the property would be a parking lot large enough to accommodate an estimated 280 people for events.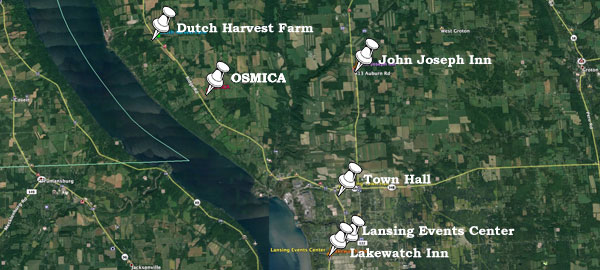 For the longest time the venues for weddings and other events in Lansing were the Lakewatch and the John Joseph Inn. The venues are quite different from each other, offering unique options for people looking for a venue. Lakewatch is a large barn with a balcony bar/seating area surrounding the main hall on the ground floor, and an outdoor patio. The John Joseph Inn, formerly the Rose Inn, is a more rural setting, with a reconstructed inn, a restaurant, and various out-buildings, and a large fenced field.
In 2017 Lansing Events Center joined the fray. The building, next to the Lakewatch, had been a restaurant under various ownership and names, the last being Booker's. But with some changes the owners of Joe's Restaurant converted it into an events center. Now two applicants in northern Lansing want to open wedding venues that appear somewhat similar -- a large events barn and parking being prominent features of each one..
Of the more than 15 people who spoke Monday, the most vocal were a group of six neighbors, including Van Every, who said they were worried about their property values and quality of life. There was much discussion about potential traffic and noise, and the disruption to neighbors' views from their homes. Neighbors said they worried about drunk driving as rowdy guests leave the venue, possibly stumbling onto their properties, or impaired drivers posing a hazard to the neighbors. They said they are concerned about light pollution as well as sound. Planning Board member Larry Sharpsteen explained that all such developments in Lansing are subject to 'dark sky lighting' standards, which require fixtures to only light what they are intended to, such as a parking lot or entryway, but are not permitted to spill away from those areas or create glare into the sky.
Some neighbors also expressed some concern about fireworks and their detrimental effect on farm animals. Fireworks was a major concern at
a public hearing last September
to allow nearby landowners to comment on another wedding venue project -- Laura Huizinga's Dutch Harvest Farm -- currently under consideration by the planning board. While this property is not as near residences as the OSMICA project, neighbors protested the project at a hearing last September, focusing on their concerns about livestock being spooked by fireworks and other noise emanating from events at the venue. The Planning Board was considering forbidding fireworks as a condition of their site plan approval.
After the courtroom had cleared Monday there was a brief discussion among Planning Board members about some of the key concerns they heard expressed. Asked about the impact of fireworks, Lansing Code Enforcement Officer Lynn Day said that while the John Joseph Inn frequently has fireworks during the wedding season, he has not received any complaints even though there are nearby farms plus an animal hospital near the facility.
Huizinga was at the OSMICA hearing with some questions about 'temporary' tents proposed especially for the two years before the OSMICA barn venue is completed, that would allow Martin to host events almost immediately. She asked about the application process, and was assured it is the same for both projects.
"I'm going through your process myself," she said. "So I can see it from both sides. It''s tough. It's not fun, but local input is local to government and community. I'm a big fan of community over competition."
The main complaint was that the Planning Board had rushed a short-form environmental review, which they feared meant the Planning Board was rubber stamping the process. They insisted a more thorough long-form review be applied to the project. The short form is used for smaller projects that will have negligible impact on the environment. But Planning Board members said that it is early in the process, and that ongoing deliberations might trigger a long-form review.
It is not clear whether the project would actually meet requirements for triggering the long-form. The New York State Department of Environmental Conservation (DEC) Website says: The Full Environmental Assessment Form (FEAF) is used when a state or local agency has determined that a SEQR review is necessary, and they have identified the project as being a Type I Action. Type I Actions are listed in SEQR (617.4) and described there as "...those actions and projects that are more likely to require the preparation of an EIS than Unlisted actions". It goes on to state "...the fact that an action or project has been listed as a Type I action carries with it the presumption that it is likely to have a significant adverse impact on the environment and may require an EIS."
Neighbors asked Monday how they could change zoning to block projects like OSMICA from their neighborhood. They were told that the Planning Board is currently reviewing all the zoning in Lansing, with a most significant addition of an Agricultural zone that is in the process of being defined. But applications submitted before zoning changes are subject to the zoning that is in place at the time they were submitted.
In addition to neighbor's concerns, there is no doubt that events venue owners -- existing and proposed -- must be concerned about whether a small community like Lansing can support so many like businesses. Anecdotally the John Joseph Inn and the Lakewatch Inn seem to be doing well enough, if driving by and seeing their parking lots full is any measure. But with a 60% increase of venues in Lansing alone, plus the many venues elsewhere in the county, filling that many venues may prove challenging.
Martin and Huizinga have been working with the Town Planning Department and Planning Board, making changes and cooperating with town officials in order to comply with the zoning ordinance and site plan conditions and requirements. The outcome will likely be that both projects are approved and issued building permits once the process has be gone through and conditions set by the Planning Board are met. Planning Board Chairman Gerald Caward, Jr. said the Board will continue to accept public comments and consider them seriously.
"We'll take into account all the comments," he said. "We are all Lansing residents. Some of us have been here for 50 or 60 years. We understand what you're talking about. We have rules that we have to live by that were set up before this board was in place, and we're in the process of changing some of those rules. But we also need to allow people to run their businesses as they are allowed to on their property under the existing laws. We'll do what we can to mitigate every one of your concerns."
v15i4