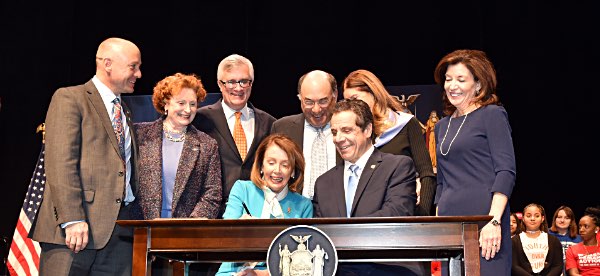 Governor Andrew M. Cuomo, joined by House Speaker Nancy Pelosi Monday, fulfilled his promise to sign the Red Flag Bill, a key component of his 2019 Justice Agenda, within the first 100 days of the new legislative session. The Red Flag Bill, also known as the extreme risk protection order bill, prevents individuals who show signs of being a threat to themselves or others from purchasing or possessing any kind of firearm. This legislation builds on New York's strongest in the nation gun laws and makes New York the first in the United States to empower its teachers and school administrators to prevent school shootings by pursuing court intervention.
"The United States loses more people to gun deaths than most developed nations. The first year of President Trump's administration, we lost 40,000 people to gun deaths - the highest number in 50 years. New York led the way by passing the strongest gun safety laws in the nation, but more must be done to end this carnage," Cuomo said. "Today New York is proud to pass the first-in-the-nation Red Flag Bill that empowers school teachers to do something when they believe something bad is going to happen. We are empowering teachers not by giving them guns like the President wants - but by arming and empowering them with the law, so when a teacher or family member sees there is a problem, they can go to a judge and get a court-ordered evaluation. The Red Flag Bill will save lives and doesn't infringe on anybody's rights and it is common sense."
"It is a great honor to join Governor Cuomo, survivors and advocates as New York makes history by enacting this landmark gun violence prevention legislation," said Speaker Nancy Pelosi. "These bills are bold and far-reaching, containing strong, comprehensive solutions to save lives and end the crisis of senseless gun violence in America. Leaders in the State House and in the U.S. House must continue to work together to ensure that no other family is forced to endure the tragedy and heartbreak of gun violence, whether in our schools, in our places of worship, on our streets or in any place."
No law currently exists in New York State that enables a court to issue an order to temporarily seize firearms from a person who is showing red flags, like violent behavior, or is believed to pose a severe threat of harm to himself, herself, or others unless that person has also been accused of a crime or family offense. In addition, no state in the nation currently empowers its teachers and school administrators to prevent school shootings by pursuing court intervention.
The Red Flag Bill provides all necessary procedural safeguards to ensure that no firearm is removed without due process while ensuring that tragedies, like the school shooting in Parkland, Florida, are not repeated. In this mass shooting, the shooter was reported by multiple sources to be disturbed and dangerous yet was allowed to purchase and possess deadly firearms. In fact, more than half of all perpetrators of mass shootings exhibit warning signs before the shooting, according to a recent analysis. In these cases, an extreme risk protection order could have prevented countless, needless deaths.
Cuomo previously advanced the legislation to keep guns away from individuals who pose a danger with the launch of a statewide campaign to pass the Red Flag Gun Protection Bill in June of 2018. The campaign included a series of bus tours to schools across the state to stand in solidarity with students, teachers and school administrators who support the bill and other common sense gun reform.
New York has passed the strongest gun control laws in the nation, including the SAFE Act which keeps guns out of the hands of convicted felons and the dangerous mentally ill, ensures private gun sales are subject to a background check, bans high-capacity magazines and assault weapons, and toughens criminal penalties for illegal gun use. The Governor also recently enacted a law targeting the well-known link between domestic abuse and deadly gun violence.
Assembly Speaker Carl Heastie said, "Our thoughts and prayers after a tragedy are not enough. The Assembly Majority has a long history of fighting for common sense reforms to prevent gun violence, and I am proud we were able to work with our Senate colleagues and finally make this and other reforms the law of the land. I know we will continue working together to ensure we have the strongest and smartest laws to address the root causes of gun violence, and make New York a safer place for everyone."
v15i8