State Police issued 21,467 tickets and arrested 280 people for impaired driving during the annual Halloween Enforcement Campaign, which began on October 25, 2019 and continued through Friday November 1, 2019. In addition, other law enforcement throughout the state issued 40,272 tickets for various traffic violations, including impaired driving, speeding, distracted driving, seat belt infractions and move over law violations. The enforcement campaign was funded by the Governor's Traffic Safety Committee.
"This effort ensured a safer Halloween by preventing the needless tragedies that are caused by those who choose to drive while impaired," said Governor Andrew M. Cuomo. "New York has zero tolerance for impaired drivers and, as the results of this campaign show, those who choose to drink and drive will be arrested."
During the campaign, State Police set up sobriety checkpoints, additional DWI patrols, and ticketed distracted drivers who used handheld electronic devices. Troopers used both marked State Police vehicles and Concealed Identity Traffic Enforcement (CITE) vehicles as part of this crackdown in order to more easily identify motorists who were violating the law. These vehicles blend in with every day traffic but are unmistakable as emergency vehicles once the emergency lighting is activated. Troopers arrested 280 people for DWI and investigated 2,092 crashes that resulted in three fatalities and 269 people being injured.
New York State Police Superintendent Keith M. Corlett said, "Our Troopers are always vigilant in keeping drunk and reckless drivers off the roadways. However, when children and parents are out walking on holidays such as Halloween, it's even more critical for us to elevate the level of awareness and urge motorists to exercise extra caution. When someone makes the wrong choice to drive impaired or recklessly, the consequences can be deadly. Together, we can prevent these tragedies."
As part of the enforcement, Troopers targeted speeding and aggressive drivers across the state. Below is a sampling of the total tickets that were issued by State Police:
Speeding 7,852
Distracted Driving 714
Seatbelt violations 599
Move Over Law 242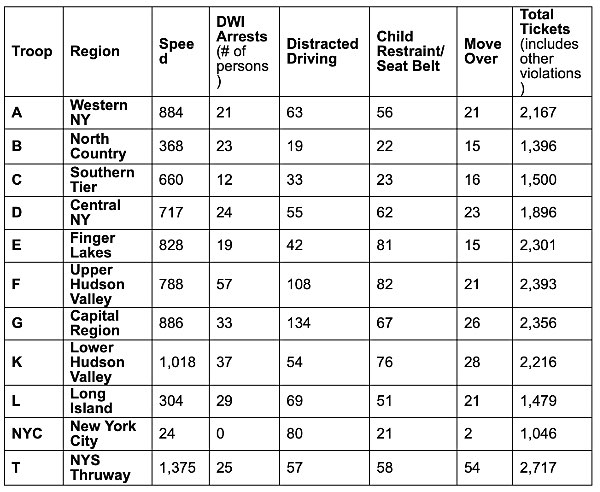 During last year's Halloween enforcement campaign, State Police issued 16,801 total tickets and arrested 267 people for DWI.
v15i43