TCAT announced Tuesday that summer
Route 22
to local parks on both sides of Cayuga Lake started running on Wednesday. The route will begin after 9 a.m. and end late afternoon traveling to and from Ithaca Commons and Taughannock State Park, serving northwest destinations to include the Ithaca Children's Garden and Cass Park. In the city's northeast, the route will travel between Stewart Park and the Commons, stopping at Ithaca High School and the Fall Creek area. Afternoon trips will serve the recently opened Alex Haley Pool at GIAC with a stop nearby at Albany and Court.
TCAT typically operates the route 22 every summer service period, which this year started May 24. Anticipating low ridership due to pandemic-related cancellations of summer camps and activities, TCAT chose not to run the route this season.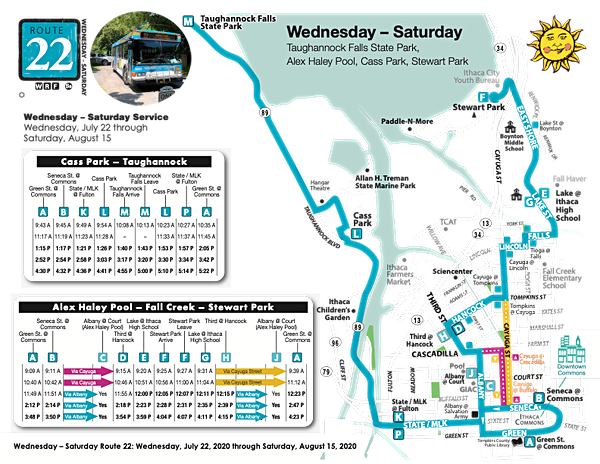 In recent weeks, however, representatives from the Ithaca Children's Garden, Discover Cayuga Lake, Paddle-n-More and Sciencenter officials teamed up to create a program for families called '
Explore the Waterfron
t', that started Wednesday, July 22. Concerned about transportation, program organizers reached out to TCAT's planners who agreed to create a modified or so-called 'pop up' route 22 that will be available to participants and to the general public.
The route 22 is scheduled to run through Saturday, August 15. Please check TCAT's
Bus Tracker
and/or via
MyStop and other apps
for all updates. All TCAT service is fare-free through Sat., Sept. 5.
Please note: TCAT requires riders to wear masks or face coverings on the bus and is also continuing a number of
safety protocols
to protect riders during the coronavirus pandemic.
v16i30