The Lansing Post Office doesn't typically offer drive through service, but an elderly driver in an SUV didn't get that memo. Around 3pm Thursday a Ford F150 plowed through the front window wall, narrowly missing customers lined up at the counter. Post Office Clerk Steve Funcell says he was waiting on a customer when he heard a loud crash as the SUV flung window panels from the front of the store to the counter, stopping about a yard from where customers were standing.
"I was waiting on a customer," Funcell says. "I had two customers in line and I was looking down at the keyboard. All of a sudden there was a loud crash. I looked up and there was a big Ford F150 4x4 parked in the Post Office lobby."
Special Update...
Ithaca, NY Monday November 24 - Ithaca Postmaster William C. Hrynko says that while the U.S. Postal Service intends to reopen the Lansing Post Office as soon as possible, there is still no word on how long it will take. "Unfortunately we don't know," he says. "Mr. Rubenstein had his adjusters and insurance people out there as well as his contractors. It could be a while."

Hrynko said that the intention was to leave the box section open, but with questions about structural integrity of the storefront it was not deemed feasible. All operations have been moved to the Warren Road Post Office. "They go to either the info booth or stand in line and we retrieve their mail," he says. "We have a makeshift box section in the back."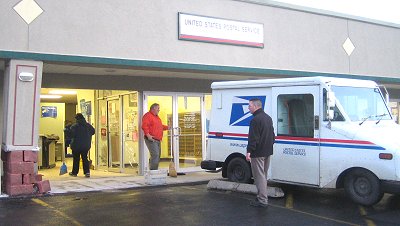 Funcell says an elderly woman was driving the car, and that she didn't appear to be in good health. He speculated that she hit the column in front of the Lansing Plaza storefront while pulling into the handicapped parking space, panicked, then hit the accelerator, meaning to slam on the brakes. Glass and window frames were smashed into the store where customers were standing in line.
"They were not hurt," Funcell says. "It's a miracle. You had to see all the broken glass and the window frame piled on the front counter, right where they were standing. The truck was three or four feet from the front counter. You can't believe that they didn't get hurt, but they didn't get hurt."
Steve Funcell in front of damaged column (left)
Ithaca Postmaster William C. Hrynko brought a crew to the Lansing branch to assess the damage and begin the process of cleaning up.
Funcell says this isn't the only incident where a post office is hit by a car. He says it has happened at the Ithaca Post Office a couple of times. "I've heard of other places being hit," Hrynko says. "I think Millport is the last post office to be hit by a car."
Hrynko says maintenance crew will come from Buffalo or Rochester to assess the damage, and Lansing Plaza owner Elliot Rubenstein will be involved. He couldn't estimate how long repairs will take. None of the other storefronts were damaged.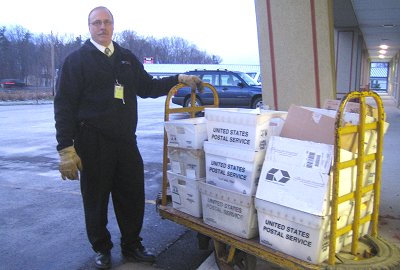 Postmaster William Hrnko with boxes of mail to be transferred
to the Warren Road Post Office until further notice
"We're going to secure the building," Hrynko says. "We're not 100% sure the building is structurally sound, so for customers' protection as well as the employees we're going to shut it down. Until further notice our box customers and retail customers will go to 757 Warren Road to pick up their mail until further notice."
"We're still working out the details," he Funcell says. "I'm bundling up everybody's mail and we're sending it to the main post office. Customers are going to have to go to the main post office to pick up their mail for a few days until this building is safe for people to come in. Then we'll resume business here."
---
With reporting and photos by Karen Veaner

----
v4i45