The Village of Lansing may seem like an unlikely home for deer, but the deer population there has decimated forested lands there. Despite a population control program instituted three years ago, the deer have continued to devour new forest growth, seriously threatening the future of wooded Village lands. This week Dr. Bernd Blossey and Dr. Jay Boulanger were at the Village Trustees meeting to make recommendations for improving the program.
"In my opinion the deer problem in Lansing surpasses what's happening on the Cornell campus, based on my observation," Boulanger said. "On the Cornell campus area we have about 100 deer, but what I've seen as a hunter in Lansing is absolutely unbelievable. At times I've had 20 deer walk by me within minutes."
Blossey has organized bowhunters for the Village hunt since it began. Boulanger manages the Cornell hunting program for Cornell Cooperative Extension. The two estimate a population in the Village of two to three hundred deer. In the first year of the Village deer population control program 11 deer were taken, and seven in the second year. This year about 38 deer were taken in controlled bow hunts for population management on four properties.
Blossey says constraints on the number of deer that can be taken impact the program's effectiveness. Factors included the 500 foot rule that severely limits the number of properties in the Village that conform to DEC hunting rules, and the fact that female deer tend to hide during the rutting season. Additionally the location of the deer was predictable as long as the food supply held out, but once it was depleted their location became more erratic. Because of that the majority of deer were taken at the beginning of the bow hunting season that began on October 17. Toward the end of the hunting season more were taken, because the does come out after rutting season is done.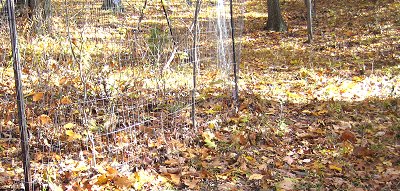 70% of new growth is eaten by deer in unprotected forest land near East Shore Drive (right) as opposed to growth that is fenced in (left)
"Just to give you an idea bout how the Village deer numbers compare with what you see outside the Village: I own three hundred acres in Richford," he said. "I've kept track of observation hours. In a little over 40 hours I saw seven deer. I saw over 200 in the Village in the same number of hours. That gives you an idea of how far out of whack the situation is -- and I consider those that I have on my land as being too abundant."
Deforestation isn't the only problem deer cause in the village. Mayor Donald Hartill says that about 40 more deer were killed in auto collisions last year. That number is based on the number of deer retrieved from Village roads by the Department of Public Works. But Boulanger says that that many auto/deer accidents are not reported.
"There has been a recent study that showed that only about half of all people that hit a deer actually report it to the police or their insurance companies, because they are afraid that their insurance rates will go up," he says. "Whatever we have on record, you can safely double it."
But even if more than 80 deer have been culled the devastation in the village threatens the future of wooded land there. Blossey says that state regulations favor recreational hunting rather than land protection. He says that other natural threats could join with the deer problem to destroy forested land to the point where it can't regenerate.
Blossey planted seedlings on one of the properties used in the hunt for the past three years. Some of the seedlings were caged to keep the deer from them, and some were left out in the open. Within three weeks 70% were eaten.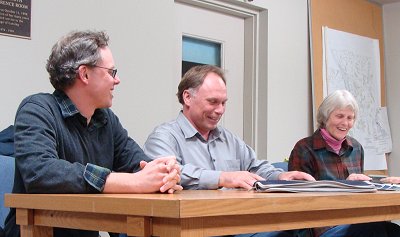 (Left to right) Dr. Jay Boulanger, Dr. Bernd Blossey,Trustee Lynn Leopold
"Our forests are dying," Hartill says. "There will be no forests."
Blossey agrees. "If we really get The Emerald Ash Borer, which is on its way, what is going to replace the trees?' he asks. "It is going to be thickets afterwards, so you had better be prepared for regenerating something. Right now, unless it's fenced, it will not happen in the Village of Lansing. People assume that the beautiful trees we have right now will always be there. Well, we know they go down all the time. If nothing grows back up nothing is going to be there."
He presented the board with a detailed report on Village hunts over the past three years, with recommendations for making the hunt more effective. Among his recommendations were
Apply for nuisance permits instead of or in addition to DMAP permits the Village has been requesting from the DEC
Consider allowing hunting from September 1st through March 30th
Approach 16 landowners who own larger parcels to allow hunting on their property
Implement monitoring to get more accurate statistics on the deer population
Develop materials and a course for hunter education
Blossey and Boulanger said that the population control program offers opportunities for education, protecting the environment, as well as a way of feeding needy people. Boulanger said that the meat is eaten by hunters and given to friends, and that much of it is donated to food banks.
"I've tried to use this as a tool to have people appreciate the local table fare," Blossey noted. "It's the lowest carbon footprint that you can have to shoot something that locally and prepare it locally. I'm sure there are needy people in the Village as well. If we can extend hunting season that much the hungry mouths that we can feed would easily be taken care of. It would be something to give back to the community."
----
v6i9