By

Dan Veaner

News

Print

Lansingites have looked forward to a new Dunkin' Donuts since the Xtramart closed for reconstruction last November and it was announced that the popular donut franchise would be part of the new facility. Today a bigger and better Xtramart is opening on the same site on the corner of Triphammer and Peruville Roads, including Dunkin' Donuts. The two businesses will bring a total of nearly 40 employees to the site. The new store is three times the size of the old one, includes a sandwich shop as well as the donut franchise, and will sell gas, deisel, and kerosene.
"We doubled the capacity on the gas side," says Drake Petroleum District Manager Brad Bilinski. "We used to have eight fueling points out there for gas. Now we have sixteen. Now we'll have a diesel business. There are four fueling points with high speed diesel pumps."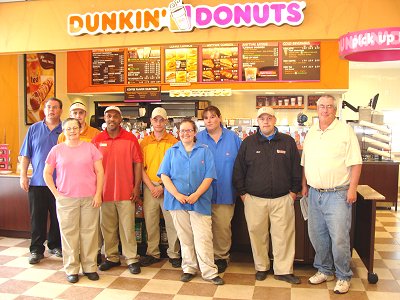 David Brooks (far right) with the new Dunkin' Donuts staff
A Dunkin' Donuts counter is at the north side of the store, with an indoor counter and a drive through window. The franchise will offer the full Dunkin' Donuts menu, and Franchise Area Director David Brooks says they hope to put some tables out in front of the counter at some point in the future. The restaurant will employ between 15 and 20 people. He says the location should be a good one.
"We're trying to hire local people," Brooks says. "We've brought people in from other locations for training and experience. We have hired some local employees already, and we'll start hiring again after we open. We usually hire local people to work in our restaurants."
Last year the number of gas stations in the central area of the Town of Lansing was severely reduced. First the Pit Stop stopped serving gas in June, and in November the Extramart convenience store and gas operation was closed, leaving only a few pumps at the P&Y Convenience Store. With the opening of the new gas station the number of pumps exceeds the original number for all three.
Drake Petroleum employees hustled yesterday to stock
the shelves before today's opening
The new store is also much expanded, tripling the space from the old 1,200 square foot shop to 3,600 square feet. The entire site was filled, raising a bit above street level, and additional land was rented to accommodate a septic field. Entrances and exits to the site were also adjusted so that most traffic will come in and out on the Triphammer Road side.
A line of food, snacks, and convenience items similar to what was sold in the old Xtramart store will be offered, as well as milk, beer, ice cream and other products in a much expanded freezer area. A drinks machine offers both Coke and Pepsi products, and the Tompkins Trust Company ATM is being reinstalled.
Bilinski says the crossroad between Triphammer and Peruville Roads is the second most traveled intersection in Tompkins County, which should tralate into a brisk business. Xtramart will employ about 20 employees to handle the gas and convenience store operation as well as a sub shop that Drake Petroleum also owns. Deli Joe's features sub sandwiches made to order, pizza, and hot dogs. The sub rolls are baked on-site with a dozen choices of sandwich on a sub roll or flat bread, and plenty of 'fixins.'
Drake Petroleum's Engineering and Construction Coordinator Arthur Paul says that all the soil was retained, and there were no environmental problems when they took out the old tanks and equipment. He notes that the new facility is more energy-efficient as well, with all LED lighting except the ceiling lights in the store. Drake Petroleum representatives worked with the Town Planning Office and Planning Board for months before construction began, and during the course of the project. He says the Tully based Ted Shaw, Inc. was great to work with, as were Town officials.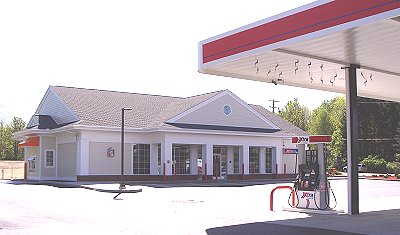 "This town was fantastic to work with," Paul says. "They bent over backward to make sure we do it right, and they were right there for us any time we needed them."
Drake Petroleum owns about 200 convenience stores and 300 supply accounts across 10 northeastern states. The Connecticut-based firm distributes Mobil, Shell, Sunoco, Citgo, Gulf, Getty, BP, Exxon, and Valero fuels, as well as unbranded fuel including Diamond Fuels and Xtra Fuels.
"I think the community is ready," Bilinski says. "I live here locally, and I hear they're excited about it. And Dunkin' Donuts is a good partner. We'll do well."
----
v6i17