Local sales tax collections across New York grew by $650 million, or 5 percent, in 2011, a slower rate than the previous year, according to a report released today by State Comptroller Thomas P. DiNapoli. Sales taxes are an important source of revenue for New York State's local governments, helping them cope with the rising cost of providing services and mitigating property tax increases.
"The positive growth last year in sales tax collections are a good sign for the economy, but continued caution is warranted," DiNapoli said. "New York's economy has improved over the past two years, but growth has been sluggish and unevenly distributed throughout the state. The degree to which local governments depend on sales taxes varies, but it is an important source of revenue for many. As localities adjust to the property tax cap, more may turn to sales tax revenues to fill in budget gaps."
Outside New York City, county sales tax collections grew 4.1 percent from $6.52 billion in 2010 to $6.79 billion in 2011. Over the past two years, county sales tax collections have regained the losses sustained after a nearly 6 percent decline in 2009. In 2011, county sales tax collections were $166 million, or 2.5 percent, higher than the 2008 pre-recession level.
Last year Tompkins County enjoyed a
3.7% rise in sales tax revenue.
The previous year the county saw a 3.8% rise.  Sales tax revenue in the county totaled $45,188,762 in 2011, up from $39,081,268 in 2009.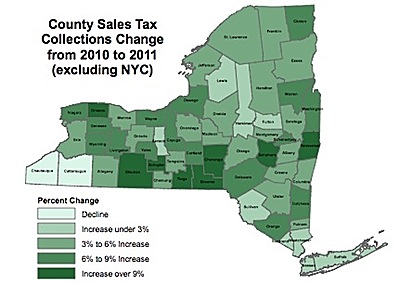 New York City sales tax collections grew by 6.1 percent, from $5.41 billion in 2010 to $5.74 billion, in 2011. Collections grew by 17.4 percent in 2010 largely due to the increase in the city's tax rate and the elimination of the sales tax exemption on clothing and footwear costing more than $110. Adjusting for the rate change, growth in 2010 would have been about 10 percent compared to the 6.1 percent growth in 2011.
Every region in the state benefited from higher sales tax collections in 2011. The strongest growth was in the Southern Tier where purchases of goods and services to rebuild and repair damage caused by Tropical Storm Lee drove an 8.6 percent increase. The weakest growth was on Long Island with a 2.4 percent increase. The strongest growth – 19 percent – was in Schuyler County, which was boosted by technical adjustments and purchases related to a concert festival and the effects of the tropical storm.
v8i8