It wasn't easy waking her up, but he persisted until she understood there was a problem. "I opened the door and the rest of the house was dark. I could see the glow and hear the crackle of the fire," she says. She put the fire out, then got a neighbor to take Blake while she called the Fire Department.

A Fire Department volunteer herself, she struggled in the dark to get the fire out. In the excitement she gabbed a gallon of water, because it was hard to find the fire extinguisher in the smoke. Then she grabbed the sprayer from the sink. But it was a good thing she called the Fire Department, because the fire wasn't actually out.
Nearly all Lansing's volunteer fire fighters responded, and the fire was snuffed out. Damage was limited to smoke and water damage and some broken glass plus the stove and kitchen cabinets that the fire burned. The heat exploded some wine bottles and other items that were close to the fire. "Another couple of minutes and that kitchen would have been completely engulfed in fire," says Ms. Sears, "and we wouldn't have been able to get out."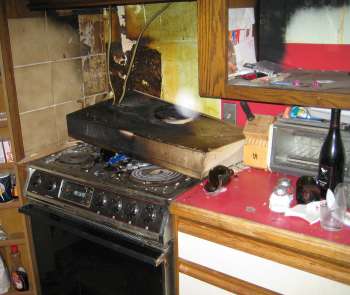 "After the fire he schooled me. 'You didn't have your fire extinguisher. You used water on the fire and you're not supposed to use water. And we didn't go to our safe place right away.' All that stuff he learned at school." Ms. Sears is referring to the Fire Prevention Week presentations the Lansing Fire Department made at the schools and their open house the previous week. Kids were shown fire trucks, equipment, and given instruction on what to do to prepare for a fire and what to do if they have one.
"His teacher, Sheila Bowman, and teacher aid Fran Nally, who lost her own house to fire a couple of months ago, all chipped in and got us some food. We've had a lot of help," says Ms. Sears. Clearly touched, she said she was amazed at the number of people who offered assistance, and at the speed and thoroughness of the Fire Department.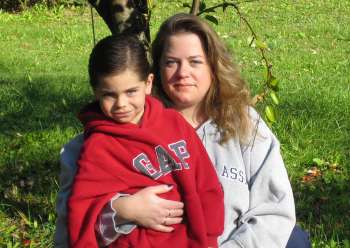 Blake and Mom Meredith Sears in their "Safe Place" under a pear tree in the front yard

"This could have been a big disaster, if it wasn't for Blake being persistent and knowing what to do," says Ms. Sears. "You never think that four-year-olds can do something like that, but I will never underestimate him again. Nobody thinks a child is going to save a parent's life, but that's what he did. He's a hero."
----
v1i15
"My Mother was asleep. I said, Mommy I see smoke," says four year old Blake Hunter. It was 1:15am Thursday (10/21) and Meredith Sears was sound asleep when a short circuit in her electric stove started a fire. Blake ran to her room, put clothes against the bottom of the door to keep the smoke out and woke up his mother.