"It's the calm before the storm." So says Lansing Town Supervisor Stephen Farkas, referring to the upcoming public meeting on the Algerine / Lansing Station Road water district extension. The controversial proposal pits less affluent residents along Algerine Road against their Lansing Station Road neighbors who want town water.

In fact some of them may need town water as the Health Department found evidence of crypto sporidia in at least one area well. When crypto sporidia contaminates a well you can get food poisoning-like symptoms from drinking the water. That is the bad news.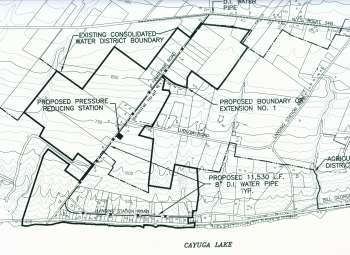 This map shows the proposed extension before Cedar Cove is added
Good news this week is that identifying the spore has raised the area's NYSEFC Drinking Water Revolving Loan Fund point score. A higher point score means the Town has a better chance of getting a better loan rate for the project, lowering each homeowner's portion of the debt. Without this advantage homeowners would typically pay $565 per year just for being in the water district. Hookup and water consumption costs would be in addition to this charge, which would be assessed for the 30 year period of the loan.

In an interview this week Mr. Farkas noted that a request has been made to include Cedar Cove in the district. Adding homes reduces each home owner's portion of the debt, making the annual payments lower. He also said that once the water lines are installed developers will be more interested in building in the area. These new units would also help spread the cost, further reducing the annual payment.
"We'll find as much money as we can to reduce the price as much as we can," said Mr. Farkas. Town Engineer David Herrick explained that the Town would submit a Hardship Determination Application to the State to apply for a reduced interest or zero interest loan. He said that other programs may also be available to help reduce the cost. "There are State and Federal opportunities. I suspect they are more loan-based than grant based," he added.

That is all subject to the residents in the effected area voting to become part of the proposed water district extension. The town will create the extension if around 70% to 75% of the residents vote for it, Mr. Farkas said.
Meanwhile the Town Board is gearing up for a feisty public meeting on October 19, which is set for 6:05pm in the Town Hall. At last month's meeting the room was nearly filled. That meeting included an informational session, not a time for public comment. After Town Engineer David Herrick explained the proposal there was a question and answer time, in which it was clear from the tone of the questions that residents on both sides of the issue are upset.
After the public hearing the Town Board will decide whether or not to go ahead. If they decide in the affirmative a vote will be scheduled.
----
v1i13