10/07 - Around four o'clock in the afternoon a small plane crashed into a neighborhood on Reach Run, off of East Shore Circle. The small Mooney aircraft was attempting to land at Tompkins-Ithaca Regional Airport after flying over the lake in heavy fog. It came in too low, clipping a tree with one wing, which broke off the plane. The other wing hit the Mirrsepassi home, and then the fuselage, with only the pilot on board, came to rest in the front yard.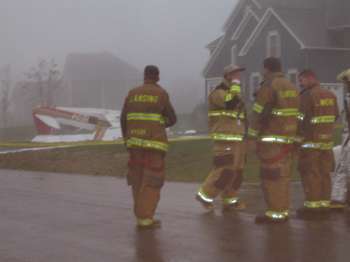 The fuselage, with only the pilot on board, was propelled between two houses. He threaded the needle," said Sheriff's Deputy Brad Covert. "He was lucky." The pilot, James Evanston, was able to get out of the plane on his own. He was transported to Cayuga Medical Center to be treated for his injuries. The architect and furniture designer from New York City got out of the wreck on his own.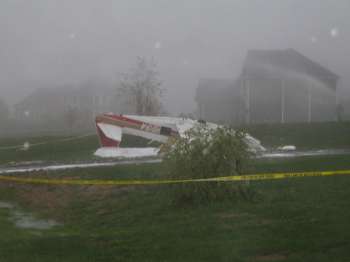 The Lansing Fire Department responded to the crash along with Bangs Ambulance, The Tompkins County Sheriff's Department and the State Police. On arriving at the scene the Lansing Fire Department sprayed foam on the yard and plane to prevent any fuel from igniting. "If a plane crashes, typically it loses fuel," explained Lansing Fire Chief Scott Purcell. "We found out later that plane was flown from New york City to Ithaca and didn't have a lot of fuel left when it got here, so when it turned upside down there was nothing left."
Later in the evening the Airport Fire Department parked a truck across the street and blew more foam over the plane. There was no fire, but the precaution was to prevent any sparks from catching fire.

Chief Purcell said there wasn't a lot of damage to the house. "It tore out the eaves trough and scuffed up some siding. I think it was more debris going by the house that did that than the plane."

Deputies were soaked by the rain as they stood guard over the wreck until the National Transportation and Safety Board (NTSB) investigator arrived later that evening. The NTSB is responsible for investigating all domestic plane crashes to determine exactly what happened. This information is shared with pilots and aids in the prevention of future accidents.


Mr. Evanston was released from the hospital with minor injuries
----
v1i13