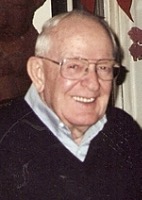 Pittsford, New York - Raymond Canwell Buckley, 86, a longtime resident of Lansing, New York, and a former resident of Leeds, Maine, went to join his loving wife Dorothy, Sunday, November 2, 2014. Both had resided at the Highlands Living Center in Pittsford, New York for the past year.
He was born third of three sons, to Gladys Mabel (Canwell) Buckley and Guy Gilbert Buckley on December 9, 1927, in Leeds, Maine. Brother Russell, passed away December 20, 1999 at the age of 81 and Ralph (Gib) passed away June 26, 2005 at the age of 82. Dorothy's Chateauvert's sister-in-law, Doris Ann, introduced Ray and Dot at a dance hall. They were married October 8, 1948 and had four children, Raema, Lorna (married to Gary), Shaun (married to Kathy) and Anissa. Raema has three children, Christopher, Cory and Kelly. Lorna has three children, Lindsay, Ashley and Justin. Shaun has a daughter Christina. There are several great-grand children: Joey and Sophie (Christopher), Haley and Jacob (Cory), Emma and Nathan (Kelly).
Ray graduated from The Leavitt Institute in June 1945 and went on to Bates College, from which he graduated in 1950 with a Bachelor's Degree in Education. During his college years, Ray was drafted into the United States Army for 1½ years. Upon graduation from Bates, Ray took a teaching position as a 5th grade teacher in Parish, New York. He also taught and became principal in New Paltz, New York. Ray attended Syracuse University earning his Master's Degree in Education in 1953.
He moved to Lansing to be superintendent of Lansing Central Schools which he served for 31 years, retiring in 1992. Upon Ray's retirement, the Board of Education renamed the elementary school the R.C. Buckley Elementary School in his honor. He had 42 years as a teacher, principal and superintendent.
In retirement, Ray tutored kids in math and did taxes for people at no cost. Ray was a member of the Asylum #133 Masonic Lodge in Leeds Maine for 65 years; a member of the Lions for 55 years and served as President of the Lions in New Paltz and Lansing. Lions International presented Ray with the Melvin P. Jones Award for his dedicated service. Ray was a member of the Lansing United Methodist Church and was the first trustee named as Trustee Emeritus for his 44 years of service. Ray was also a member of the Tompkins Trust NE Advisory Committee. Messages of condolence may be sent to: www.finleyfuneralhome.com