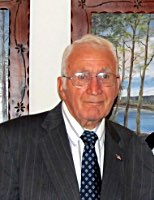 Wendell J. (Windy) Thompson, 85, of Lansing, went home to the Lord on February 13, 2018, while surrounded by his loving family.
Born in Odessa, NY to the late Stewart and Ruth (McKay) Thompson, Wendell spent most of his life in the Lansing, NY area.
As a young married man he started his work life at Rudy Krantz' Garage, and then worked at Rock Salt (Cargill). He worked for 35 years at the Lansing Schools, starting as a bus driver, and retiring as the Transportation Manager.
He was predeceased by Julia Thompson, his wife of 60 years; and also five sisters, Kathryn, Hannah, Vivian, Edith and Shirley; and two brothers, Harry and Clifton.
Wendell is survived by his children, Rudy (Diane) Thompson of Michigan, Linda Drew (Chuck Reed) of Lansing, and John (Amy) Thompson of Florida; his sisters, Phyllis Hillary and Elizabeth Barnes, and Sister-in-Law, Marion Thompson; ten grandchildren, and three great-grandchildren. He is also survived by his special friend, Mary Elser, a large extended family, and many friends. He will be deeply missed by all.
Cremation has taken place. In lieu of flowers, memorial contributions may be made to Hospicare, 172 E. King Rd., Ithaca, NY 14850, or to the donor's choice. The family would like to give special thanks to Dr. Ann Costello and Hospicare for taking such great care of Wendell.
There will be a memorial and celebration of life on Saturday, May 19th 2:00 PM at the North Lansing Fire Hall, 1189 Auburn Rd Locke NY 13092 (Next to Linda's Diner, North Lansing).