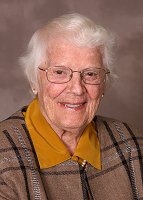 Lansing, NY -- Louise May Barr, age 90, passed away Sunday, June 6, 2010 at Cayuga Medical Center.
Born September 28, 1919, in Cleveland, Ohio, Louise was a daughter of the late Ada (Huntley) Barr (deceased) and David Winfield Barr (deceased), and sister of Helen Barr Battin (deceased) and Betty Barr Lemmon (deceased). A 1942 graduate of Hillsdale College in Michigan, she was employed in the Pathology Department of Western Reserve University Medical School until 1949 when she moved to Ithaca. She started employment in the Pathology Department at Cornell University's Veterinary College in the Clinical Pathology Lab instructing Senior year veterinary students and then in Electron Microscopy, where she was first to identify and photograph the feline leukemia virus. During her professional years Louise was president of the Alpha Chapter of Women in Science. She retired in 1982 and has since lovingly cared for the Barr Family Homestead in Ludlowville.
Louise will be remembered for her ever-present smile, positive attitude, and generous spirit. She was a faithful member of Lansing United Methodist Church and was active with the Wednesday morning Bible Study, Lansing Food Pantry and the church rummage sales. She was a Trustee for Pine Grove Cemetery Association and a board member of the Lansing Historical Association, and a member of the Lansing Outhouse Committee which published Privy Relations.

She held memberships with The Museum of the Earth, The Science Center and Cornell's Lab of Ornithology. A classroom "grandmother" she read to countless first graders over the course of many years at Lansing Central School. Lou traveled the unusual. Her excursions spanned four continents and included Polar bear sightings in Canada, rafting on the Colorado River, heli hiking in British Columbia, climbing Ben Nevis in Scotland, a visit to Tibet and a safari in Kenya.

Louise is survived by a brother-in-law, Scott Lemmon of Waldwick, NJ; nieces, Linda Durham of Shaker Heights, OH, Gail (Rick) Lloyd of Newark, DE, Roberta (Scott) Phelps of Shaker Heights, OH, Janet (Brian) McGovern of Brookfield, CT; Barbara Battin (Jim Clay) of Centerville, OH; nephew, David Battin; and a large, loving extended group of family and friends.

Those wishing to remember Louise in the form of a contribution may consider the Living Memorial Fund at Lansing United Methodist Church, 32 Brickyard Rd., Lansing, NY 14882.

A memorial service, officiated by Pastor William Gottschalk-Fielding, will be held at 3pm, Friday, June 11, 2010, at Lansing United Methodist Church. Interment in Pine Grove Cemetery will be private. Lansing Funeral Home is assisting the family.