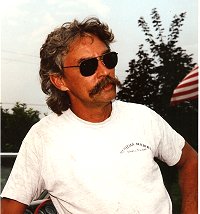 William Arthur Schempp of Emmons Rd., Lansing, NY, passed away February 11, 2011, at the age of 62.
Born June 11, 1948, in Ithaca, Will was the son of George Christian Schempp and the late Mary Elizabeth Finch Schempp.
Will took great pride in having achieved the rank of Eagle Scout at the tender age of 14. An avid drummer and guitar player he was a member of numerous bands in his early years. Will enjoyed his work as a master carpenter for over 20 years with Perfect Painters/Heritage Builders, and jokingly said "work was a way to fund a good time". A former member of the Wine Country Antique Boat Club, Will earned numerous trophies over the years for his beautiful restoration of antique boats. He also loved to tinker with his 1966 Corvette Stingray and his Harley. He had a keen interest in American history and was a genuinely patriotic person. Family and friends recall many fond memories of traveling with Will to the Thousand Islands or the Florida Keys. He took great pleasure in holidays and birthdays, and had a knack for making a good time wherever he went. His presence and humor will be greatly missed by those he leaves behind, including his beloved westie, "Jack".
In addition to his mother, Will was preceded in death by a brother, George Schempp.
He is survived by his fiancée, Amy Christopher of Lansing; his father, George C. Schempp of FL; Amy's daughter, Angie (Dan) Pierce and their children, Aidan and Brenna of Lansing; sister, Charlotte (William) Day of DE; nephews, Geoffrey Schempp of FL, Robert (Joan) Day and their children, Melissa and Steven, of DE; nieces, Leslie (Tony) Claro, of FL and Natalie Schempp of FL; and special friends, John Wells and Dorie Haring of Ithaca.
For those who wish to honor Will with a memorial contribution, please consider Tompkins County SPCA, 1640 Hanshaw Rd., Ithaca, NY 14850 or the American Cancer Society, 13 Beech St., Johnson City, NY 13790.
A memorial service, officiated by Pastor Jane Sautter, will be held at 11 am, Friday, February 18, 2011, at Lansing United Methodist Church, 32 Brickyard Rd., Lansing, NY. Lansing Funeral Home is assisting the family.